As studios and schools are starting to reopen, yoga teachers are slowly returning to teaching in front of their students after months away. But it's far from back to business as usual. For many of us, the lock-down period has been an introspective, not to mention stressful, time and being centre-stage again takes some adjustment.
So with this in mind I asked EkhartYoga teacher, David Lurey, for his advice for teachers on navigating the way back to teaching and communicating confidently in class.
With classes and studios reopening, do you have any advice for overcoming stage fright for those first classes back?
David – As cliche as it sounds, embrace the fear! I have already taught my first few in-person classes after a strict lockdown in Spain.
A few minutes before the students arrived, I sat down in the studio, closed my eyes and breathed. I reconnected to my purpose for teaching: to open consciousness and vitality – and let the feeling of the words circulate around my body, mind and heart. It took about 2 minutes in total and was beyond valuable for my first class back.
I verbally acknowledged my nervous energy, putting it out there to the class in a 'real / authentic' way softened the space right away. This also gave the students permission to be uncertain about how the class would go and we co-created the experience which was empowering for everyone. Being vulnerable in an honest and sincere – but not over-dramatic – way creates a connection.
I also was quite conscious not to bring up Coronavirus and its far reaching impact in the class so that we could have a break from the non-stop news about it.
How can you help (re)create a sense of connection and community while you're teaching – in person and online?
For in-person classes, cultivate an extra large sense of empathy. Many of your students will have had traumatic experiences during this pandemic so when and where it is appropriate, take the time to listen. At the same time, support students in seeing the difference behind the drama of the story and what is real now. This opened connections for me in many instances… teaching and beyond.
Creating a sense of community while teaching in person can take a few forms. One that I like is to have everyone become aware of how many shades of green (or blue, red, etc..) you see in the space around you. And now to recognize that the people here with us are also seeing these colors through their own eyes. A shared experience of our uniqueness!
I avoid having people look at each other or even engage too much in classes as many come for personal time. However as teachers, we can invite common feelings to arise. For example, at an appropriate moment ask everyone to bring hands to the heart and feel gratitude … or call into their minds and hearts someone of something they Love and get the feeling of it. When everyone drops into their personal feelings, there is also a shared experience of that.
Humor and lightness can also have the same effect… but are equally dangerous in these times of political sensitivity and multi-generational yoga classes.
The same techniques work for online classes as well, but I suggest the teacher then look into the camera and 'speak' to everyone. For me, when I was teaching live on the EkhartYoga Facebook page, I took the opportunity at the start of each class to center myself. I was nervous and it was weird with my camera set up and seeing around a hundred people logging in from around the world desiring connection. I directed my mind to my heart, connected to WHY I was doing it and went from there.
During the practices, I also took the opportunity to encourage people to become present to their current surroundings and verbally acknowledge that we were all looking at various things all over the planet, but at the same time and with a similar intention. This was powerful! Also, the invitation for online students to sense various body parts and to exercise compassion simultaneously seemed to have a positive effect. Again, being mindful to not over-do it…but to keep it real and practical. I find more depth there than in dramatic storytelling.
I also recommend to be sensitive and balanced when trying to 'cultivate community and connection'. Don't go overboard with it. Connection can happen with a few simple tools of the practice and when it is overdone, can also lose its authenticity. Less is more… and often has a deeper effect done simply and well rather than repeated over and over again.
Do you have any practical tips for projecting your voice – for those of us who aren't such natural performers?
I think of the tongue as a gateway between the inner and outer world. So practice mouth and tongue exercises to help you enunciate and project your voice. I advocate milking the tongue every day and you can watch my video on that for instructions or entertainment!
In my 'Conscious Communication Course' on the EkhartYoga Academy, we go through some singing and vocal exercises that are great for cultivating your voice – like vocal warm-ups and changing the range. You can also bring singing into your classes with kirtan and mantra. It's a playful way to drama or fun to your classes. If this takes you out of your comfort zone lean into your edge and give it a try.
Generally though, do belly breathing and project air from the belly button. OPEN the mouth so sound can escape and enunciate words clearly.
Before the pandemic some yoga teachers used more hands-on assists and adjustments in their classes. Do you have any advice for these teachers on improving their verbal cues?
Keep it simple and clear. Refer to major body parts first, then you can get more detailed with anatomy. Everyone knows arms and legs… after the big parts are identified, you can use various terminology and give examples and analogies to make it clear your intentions and actions.
Give directions with geographical landmarks rather than right/left. Even online, you can use 'front and back' and 'in the direction you are facing' as cues. In person, identify landmarks at the beginning of the class and use them again and again.
Give instructions that be interpreted in only one way. This is an art and takes time, but when cultivated, it softens the 'thinking' of the students and gives them a deeper body / spirit experience rather than analytical experience trying to interpret things.
Silence is Golden. When you see your desired actions fulfilled in the students bodies… give them space to feel it.
Lastly, what final three communication tips do you have for yoga teachers?
1. Authenticity and vulnerability are paramount.
They are part of the deal of being a conscious communicator. Be careful to avoid regurgitating material. This is a tricky one as there is nothing new under the sun! SO feel free to share wisdom and phrases you have heard before, but do so in a way that you FEEL and BELIEVE them rather than just saying them to fill space. Don't just say the things they want to hear.
2. Use affirmative language
The Universe has very big ears! When giving teaching instructions, and in general life, speak the things you WANT rather than what you DON'T WANT.
A daily life example is: Remember your keys… instead of 'Don't forget your keys.
A Yoga class has hundreds of opportunities like this, starting with: Remember to breathe with awareness rather than Don't forget to breathe!
3. Use 'I' language
An important part of 'conscious communication' is learning and training speaking in "I" language, the first person. This means that all experiences are yours and that you speak from an authentic place rather than projecting your opinions and experiences onto others. It is a challenge and opens the door to vulnerability very wide, and at the same time, I feel it makes a new layer of trust when students hear you speaking of your experience rather than telling them what or how to feel.
A Yoga teaching example of this is: When I engage my butt muscles in bridge pose, I feel safer and more stable in the pose.
Rather than: When you contract your butt muscles in bridge pose, you feel safer and more stable.
Remember all experiences are valid and one of our responsibilities as teachers is to give room for our students to have their own. A phrase I heard about this that literally changed my life around this is:
I become free by allowing others the freedom to have their own experience.
I invite you let that sink in…. and see how teaching and generally communicating from the first person ("I" language) makes you feel.
Study with David Lurey on the EkhartYoga Academy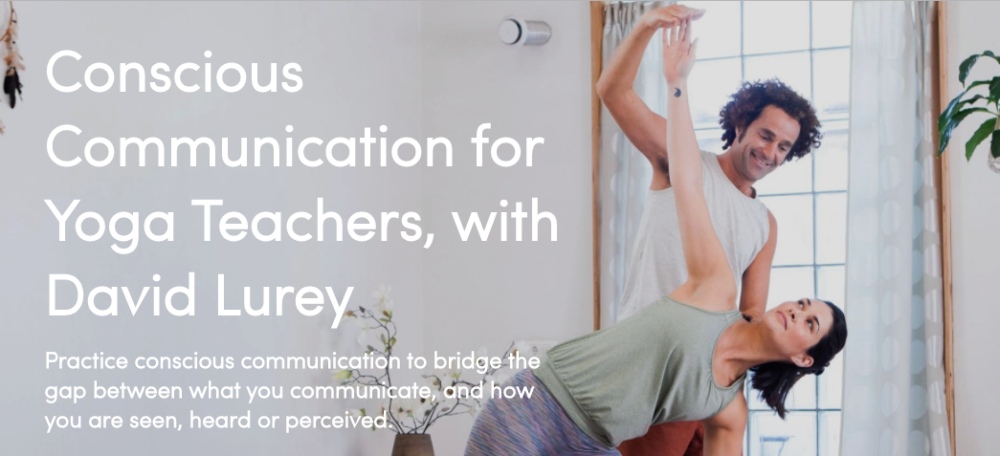 A 2 hour online course. Eligible for 2 CEUs with Yoga Alliance
Related