Dear EkhartYoga members
We have put together a 1 to 2 day weekend yoga retreat that you can join in from your own home.
The Retreat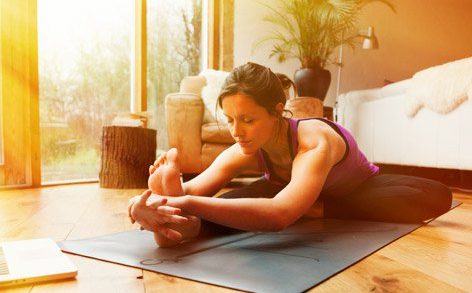 This 1 – 2 day retreat will help you connect, rest and restore from the space behind your own front door! You can choose how intense you want the retreat to be. Whether you choose 1 or 2 days, enjoy the oasis of calm that you create by dedicating time and space for this immersion of yoga. Home Yoga Retreat
Optional 1 or 2 day Retreat
You can choose whether you want to participate for one or both days. Your weekend will be full of yoga, meditation, pranayama, healthy food, exercises and more. Encourage a friend to join in to help motivate you and share in the experience.
Your schedule
Day 1:
Day 1 starts with Meditation and Pranayama. Then it's time for a healthy breakfast and an "off the mat" exercise, followed by a yoga class with Esther.
After lunch there will be some 'open' time. How you choose to spend it is up to you but we will have some suggested individual and group (if you are doing it with a friend) activities that you can do.
In the evening there will be some Yin Yoga and an option for a more active class for those who want it.
After dinner there will be an evening meditation and an optional activity.

Day 2:
You can choose to continue on to Day 2 if you wish to have a longer retreat.
You start your morning with meditation and pranayama with Esther Ekhart followed by breakfast.
After breakfast and a break there will be a final yoga class with Esther.
Ending the day with lunch, you can choose to finish the day with an activity.
We invite you to join us and find balance in body, mind and life.Become a member and join our Home Yoga Retreat