Breathing habits
We all know how to breathe. It's something that occurs automatically, spontaneously and naturally, without any real thought needed to achieve it. It may, therefore, seem a little odd that this article is centered entirely on how to breathe! Yet more often than not, I see peoples' breath becoming limited and restricted, not just momentarily but habitually though day to day life.
The reason for this is quite simple – life gets in the way. Unhealthy breath habits are picked up unknowingly, either through slouching at the office desk, sinking into your sofa at home, or behind the wheel of your car. All these regularly occurring day to day events affect posture and diminish lung capacity and functionality, which in turn limits your breath.
The other major contributor to limited breath is stress. In today's fast-paced culture, many find that there's a constant pressure to strive and achieve. The downside to this quality of ambition, hard work and determination, is stress. Stress surfaces in people in many different ways, but what is very evident through a yoga practice is that when you're harbouring stress within, you tend to have a shallow and quick breath.
Reading this now, just take note of your breath pattern and quality for 10 breaths, and then try the breathing practice at the end of this article to notice the difference in your breath potential.
Yoga theory
There is a term in yoga called 'atha yoganushashanam', a Pantanjali philosophy stating that there are 8 steps for silencing the mind which is the one true 'goal' of yoga. Those 8 steps are: restraints and observances, postures, breath control, withdrawal, slowing of mind, contemplation and meditation.
The 'postures' element is what many of place our emphasis on in yoga, but as noted above it is only one of eight elements which make up yoga. 'Breath control' is another of the 8 steps and it's importance is pivotal for overall health and wellbeing. Let's hear about this from one of the yoga greats…
Sri O P Tiwari – the master of breathwork
Not long ago, I enjoyed a small intimate workshop with Sri O P Tiwari, a master of pranayama (breathwork), and one of the few remaining Hatha yoga masters in the world. Sri O P Tiwari is a student of Swami Kuvalyananda and teaches a Pranayama practice with a classical technique, where the scientific outlook harmonises with traditional wisdom. He is a humble man who, with integrity and sincerity, passes on the practice of yoga in the traditional way. Let's now delve into some of the techniques and theory that Tiwari champions.
What is Pranayama and why is it so important?
Pranayama is the science of breath control. Correct breathing brings more oxygen to the blood and to the brain, and helps to control prana which is your vital life energy. Breath control is proven to help the prevention of major diseases and cure minor illnesses. We can survive without food for weeks and without water for days, but without oxygen we will die within a few minutes. The brain requires more oxygen than any other organ. If it doesn't get enough, the result is mental sluggishness, negative thoughts, depression and, eventually, vision and hearing declines. One of the major secrets of energy and rejuvenation is a purified blood stream. The quickest and most effective way to purify the blood stream is by taking in extra supplies of oxygen from the air we breathe. The breathing exercise described below is one of the most effective methods for saturating the blood with extra oxygen.
Sri O P Tiwari teaches that:
Yoga isn't yoga without attention and awareness on pranayama. Deep cleansing breaths allow you to deepen your practice and cleanse the mind of any clutter, which in turn allows you to enter a meditative state – condusive to a true yoga practice and lifestyle.
Basic breath practice – the cycle of breath
Step by step instructions
The first guidance for correct breathing is that we should breathe in and out through the nose. The nose has various defense mechanisms to prevent impurities.
Sit in a cross-legged position, tall spine, shoulders soft and low (if this is uncomfortable sit in an upright position on a stool or chair). Your gaze is just past your nose or close the eyes. Ensure you're lifting up from the base of your spine to the crown of your head, keeping shoulders and chest open to allow the breath to move through the body easily.
Start to let all thoughts in your mind melt away whilst you enjoy this practice. If thoughts creep back in say to yourself 'I'm not going to get involved' and let those thoughts pass, bringing full awareness back to your breath.
Notice how your breath feels, feel its natural rhythm, follow the path that your breath is taking through your physical body – listen…
Now redirect your breath as follows:
Feel your breath in your lower tummy, and as you start to breathe in let the abdomen expand and your tummy come out slightly
As you continue your inhale filling the lungs, follow your breath as it goes wide into your ribcage, feel the ribcage expand
At the top of the inhale feel the breath in the upper chest, a gentle rise there
Finally visualise the inhale lifting to the crown of the head, as if it were gently lifting you towards the sky
Exhale and let the breath slowly ebb away, the chest slowly lowers, ribcage retracts, tummy and abdomen lowers and goes slightly concave
Fully empty at the end of your exhale (a pause can help to ensure you're fully emptying here) and only then inhale again
Stay here following your cycle of breath for 5-10 minutes depending on the time you have to dedicate to your pranayama practice
Tune into how it's a cycle, flowing up and down the body in a gentle rhythm
Your inhale length can be a count or 3 or 4 seconds, your exhale needs to be a little longer for say 6 or 7 seconds. As you get confident with this breathing technique you can increase the length of each inhale and exhale, always aiming for your exhale to be about double the length of your inhale
Enjoy this breath whenever you can throughout your day, with the aim of making this breath natural and habitual.
You can practise this breathing technique in your own time, or guided through the practice in a yoga class. Remember that life is not about how many years you have on this earth, but how many breaths you enjoy – so slow down, breathe calmly and enjoy being present with your breath.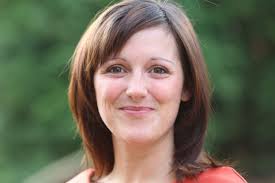 Adele Wills is a yoga teacher and writer based in Halifax in England. In addition to teaching Hatha and Ashtanga yoga, she's developed a specialisation in pregnancy and birth. For more information, visit her website.
Suggested reading
If you'd like to learn more about Pranayama, read What is Pranayama? and discover the benefits of this practice.
Suggested programme
EkhartYoga members might like to try and move 'beyond asana' with our Ten days of Pranayama programme