by Niamh Burke Neff
My journey with food
A few years back I decided to change from being vegetarian to vegan, a progression that came about quite naturally really. I had always eaten a lot of fruit, vegetables, grains, pulses and nuts, however up to that point, when baking, I would usually rely on eggs or dairy produce that I normally did not eat. I relished the challenge this move to veganism would create in the kitchen, finding substitutes and other ways of making foods I liked, and presenting it in a way that was healthy, attractive and tasty, not just to me, but for those that come to visit too.
Eliminating things like wheat, sugar, caffeine, soy were a no brainer as they never really agreed with me, so I 'went the whole hog' and adopted an all or nothing approach which included eliminating all pre-made package products. Simply put, I wanted to take full responsibility for how I nourish my body, both inside and out, and I wanted my nutrition to be more in line with my approach to clean 'Wholistic' living. That is to say, to use only organic natural ingredients, wholefoods, my garden produce and wild edibles, and live as synthetic/chemical/additive/GMO free as possible. This was something I was already doing by creating my own skin care and body products. So what was already a healthy relationship with raw cuisine, developed into a full blown love affair.
Raw Baking!
I have always been an advocate of 'raw'. However, when it came to my experience with raw 'cooking', or 'un-cooking' as I like to call it, my adventures had never really approached the area of 'baking'. For some reason it always appeared daunting and too 'fiddly' to me. That was, until I actually started playing with it.
This led to a lot of adventures and fun in finding and creating raw vegan alternatives. I found I really started getting nerdy about it. I was determined to find ways of creating alternatives with what I initially felt was a limited palette of ingredients and to recreate some of the 'guilty treats' I enjoyed before this move to veganism – foods that were delicious, looked great, were not too complicated to make…and would appeal to everyone. Cheesecake is one of those treats, so I took this challenge as being the ultimate test.
So here you have it – the recipe for my raw (vegan) version of 'cheesecake' – easy to make, clean food, nutritious, delicious and absolutely 'guilt free'!
Midsummer Night's Dream Triple Layer Cheesecake
The inspiration for this cheesecake came while sitting out on the terrace with a friend on midsummers night – post crystal meditation – while listening to Bollywood music, giggling, surrounded by tree lanterns, drinking homemade elderflower sparkler and rose petal syrup and dreaming of trips to far-away lands. I wanted this cake to be an explosion of the senses, in every way, hence the name 'Midsummer Night's Dream'. Enjoy!
Raw 'Midsummer Night's Dream' Triple Layer Cheesecake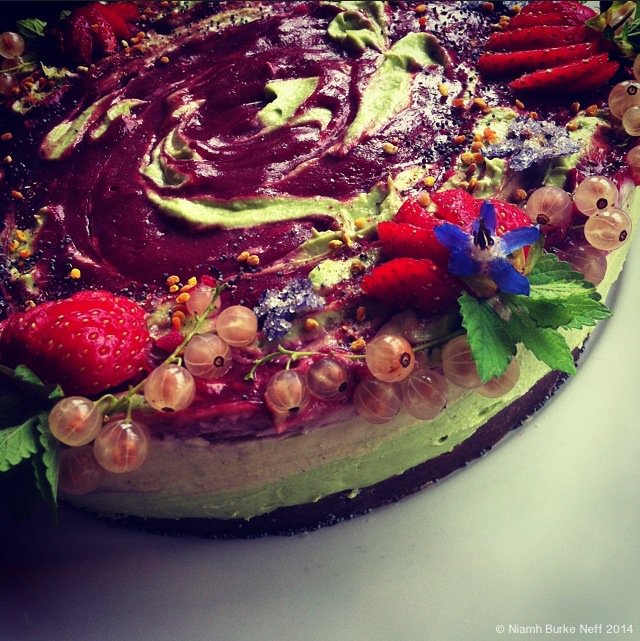 (makes one 6 inch cake)
Pie Crust
1/3 cup* flax seed
1 and a 1/2 cups dried finely shredded coconut (I used coconut chips for everything in this recipe)
3/4 cup soft dates (chopped)
1/8 teaspoon sea salt
Layer 1 filling – Tangy Lime and Coconut
2 large avocados
1/3 cup raw vegan honey (you can use normal honey, agave nectar or coconut blossom nectar as substitutes)
1/4 tsp sea salt
zest of 2 limes
fresh juice from 2 large limes
seeds scraped from one large vanilla bean
handful of either chard or spinach (this does not taste – it is used only to give the green color)
3/4 cup of coconut 'butter'*
Layer 2 filling – 'Tropical Sweetness; Mango, Banana and Pineapple'
2 cups soaked cashews (soak in purified water for 4 hours beforehand, drain)
1 banana
1/2 mango
1/3 pineapple
1/3 cup vegan honey (you can use agave nectar or coconut blossom nectar as substitutes)
1/4 teaspoon sea salt
seeds scraped from one vanilla bean
1/2 cup of coconut 'butter'**
Layer 3 filling – 'Tart Berry Swirl'
1/2 cup blackcurrants
1/2 cup strawberries
3 or 4 soft dates
1 ripe nectarine
Wash all fresh ingredients and remove stones from all. Using a pastry brush, lightly coat a 6 inch spring form tin with melted coconut oil. Line the bottom and sides of the tin with baking paper.
To make the crust
Combine flax, coconut, sea salt in a high speed blender or food processor (ie. Vitamix) until it resembles fine crumbs, then add the dates and process until the mixture comes together to a soft dough consistency. Firmly press this mixture into the bottom of the prepared pan, making sure that it it even, and set aside.
To make the lime layer
Combine all ingredients in the blender and blend until smooth. Set aside in a bowl. Rinse out the blender.
To make the tropical layer
Combine all ingredients in the blender and blend until smooth. Set aside in a bowl. Rinse out the blender.
To make the berry layer
Combine all ingredients in a high speed blender/food processor and blend until smooth. Set aside in a bowl.
To assemble cheesecake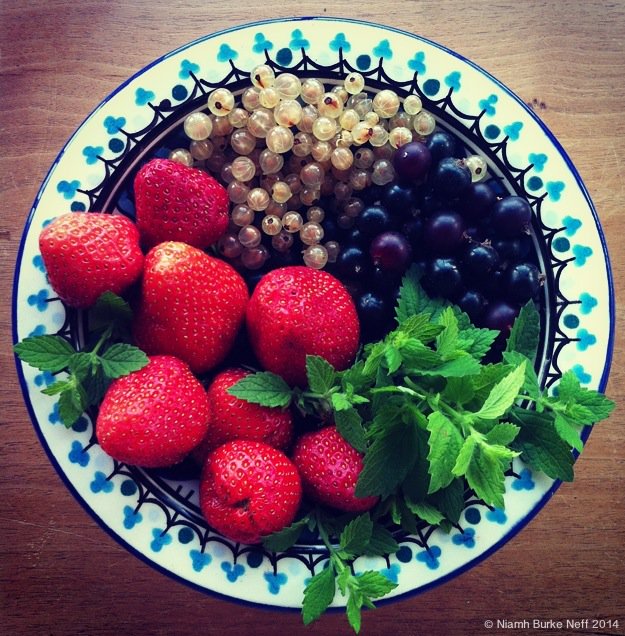 Pour the lime layer over the crust, keeping aside three tablespoons of the mixture. Add some teaspoon sized dollops of the berry swirl on top.
Next, pour the tropical layer. Finally, add the berry swirl by the tsp over that, and using a teaspoon, add what is left of the lime layer around the top. I then used a skewer (a toothpick would also work) to create the swirl – simply place the skewer about half a centimeter into the mixture and make a spiral (or any other design you wish), from the outside of the tin, to the center. Place in the freezer for 4-5 hrs to firm up (or longer if needed).
To serve
Gently run a knife between the baking paper and the edge of the tin to loosen up the paper from the coconut oil. Remove the tin from the cake, and place the cake on a plate, and decorate as you wish. I decorated this one with fresh berries, lemon balm and borage flowers from the garden and some crystallized violets I foraged back in April. I then sprinkled the edges with poppy seeds and some (vegan) bee pollen.
* I use measuring cups to measure the ingredients in this recipe, not drinking cups! The measurements on these cups are
¼ = 2oz
⅓ = 2.7oz
½ = 4oz
1 = 8oz
** to make coconut 'butter': put 300gm of coconut chips in the blender and blend, making sure to tamper it down around the edges. Blend until smooth and creamy, normally about one minute. I prefer to use coconut butter instead of coconut oil as a thickener/stabilizer as it is much lighter and adds a lovely sweetness to recipes. This is also absolutely delicious on toast! 🙂
All text and photographs on this article © Niamh Burke Neff 2014