I couldn't sleep last night. Instead of watching the hours go by, I took a lavender oil bath, practised some restorative yoga and created a cake.
This cake is something special. It's really delicious, but also very healthy AND made with ingredients that promote sleep!
Food that promotes sleep
Fresh, dried and tart cherries are one of the only natural food sources of melatonin, the chemical that controls the body's internal clock to regulate sleep. Researchers who tested tart cherries and found high levels of melatonin recommend eating them an hour before bedtime.
Potassium and magnesium are natural muscle relaxants, and bananas are a good source of both. They also contain the amino acid L-tryptophan, which gets converted to 5-HTP in the brain. The 5-HTP, in turn, is converted to serotonin (a relaxing neurotransmitter) and melatonin.
Oats trigger a rise in blood sugar, which in turn triggers insulin production and the release of sleep-inducing brain chemicals. Oats are also rich in vitamin B6, an anti-stress vitamin, and melatonin.
If you still have trouble sleeping after eating this cake, try this restorative yoga sequence Rest and Rejuvenate
Sleepy banana cake
Ingredients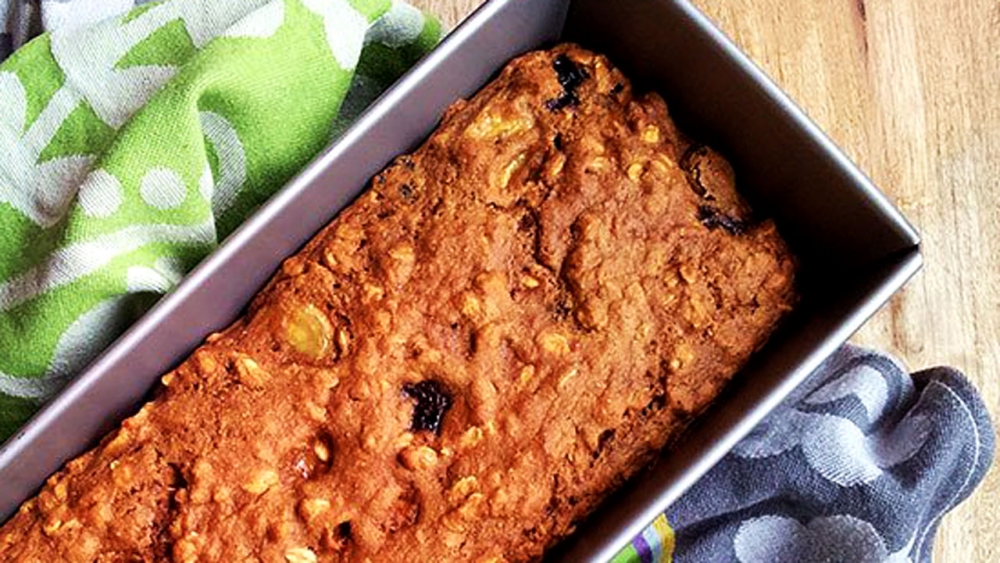 1 ½ cup whole wheat spelt flour
1 cup rolled oats
½ cup coconut flower sugar
2 tsp baking powder
½ tsp baking soda
½ tsp ground cinnamon
½ tsp ground ginger
½ tsp ground cardamom
½ tsp ground nutmeg
½ cup dried cherries
½ fresh or frozen cherries
2 bananas, peeled & chopped
1 cup + 3 tbsp unsweetened applesauce
½ cup rice milk
½ tsp apple cider vinegar
Method
Put all of the ingredients in the order mentioned above in a large bowl. Stir with a wooden spoon. Make sure not to overdo it, the cake will stay fluffy that way. Bake in a pre-heated oven at 180 degrees Celsius for about 50 minutes (or until a toothpick comes out clean).
Sleep tight!
Related: