Joining Esther
A few years ago, a free spirit living on my own in the lovely city of Cork, Eire, I chose to make my yoga practice part of my professional life… Some years have passed, and I am still part of the world of yoga and also of online yoga, being the first teacher (after Esther) to join the wonderful EkhartYoga team. This was an event that truly changed my life… From part-time Customer Care Consultant and Yoga teacher to full-time Yoga teacher and Yoga studio owner. Let me explain…
YouTube
Back in 2010 Esther Ekhart – by then living in West Cork, Ireland – asked me to contribute to her free YouTube yoga videos, well before EkhartYoga was born. That shocked me and was a real surprise and honour! When I asked her – Why me? – her answer was (I still remember!) – "Because you are true to yoga, you live your yoga and you have integrity and that was like a revelation for me!"
India and Clive Sheridan
The next step in this great journey was Esther talking to me about Clive. In 2004 I travelled to Australia and trained with this great group of wonderful teachers at Yoga Arts in Byron Bay. All of them had practised with Clive Sheridan in some way, and I kept on hearing this name… When Esther mentioned that she had been on a yoga retreat with him in England, I felt something in my heart: I knew I wanted to meet him.
Next was the trip to India: I had already arranged to be there for 3 months – from January to March – but I had no agenda. I had already been and I knew that it's a special place. I emailed Clive asking to be admitted to his 3-week exclusive retreat in Goa (the intensity and the depth of the retreat make it exclusive – not for the fainthearted… ). You are not admitted unless you have done some shorter retreats or a weekend with him before, due to the nature of the practice and "matters of heart and mind" being the main theme. But somehow, this time there was an exception – I was accepted on the retreat!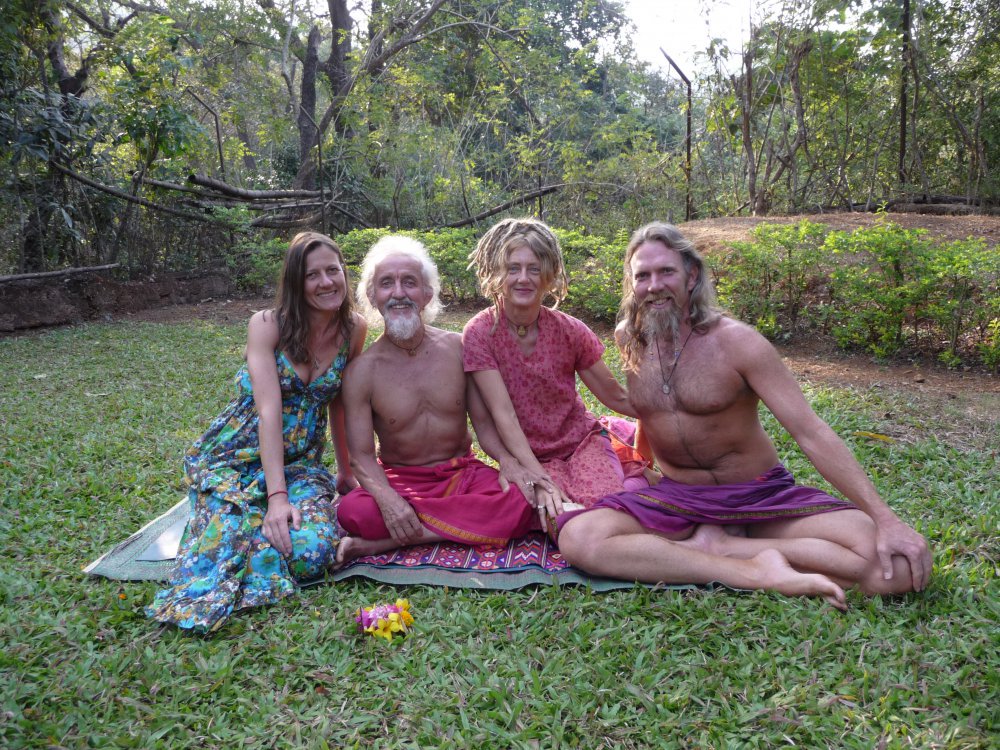 Meeting Andrew and a new direction
Never in my life would I have thought that this trip to India, January 2011, would become the milestone of a massive change in my life. What an illusion – MY life! The great Mother was smiling at me in many forms and delights. I met my "Shiva" Andrew Wrenn in the forest of Bondla and nothing has been the same ever since.
We were called to spread the magic of yoga in a way that I would have never thought possible. Ireland and Cork were enjoying a delightful stream of wonderful yogis and yoginis, and Andrew's hometown of Macclesfield somehow needed some of that vibe. Reluctantly leaving my beloved Ireland, I embraced the challenge and, together with Andrew, created a fabulous place entirely dedicated to the practice of yoga – Pure Yoga Cheshire.
Authentic and open
EkhartYoga is still is part of our lives. Esther has been our friend from the beginning and was with us when we met. Andrew and I enjoy the challenge of being on camera… though the challenge was greater for me than for him. It has been a few years since I first stepped in front of the camera, but finally I can relax, enjoy and be present as I offer my suggestions for a practice that comes from the heart. It's a real check-in for being authentic and opening up to a new world…
I am forever grateful for the challenge, forever embracing it with an open heart…
This article appeared first on Francesca's personal blog.