by Angie Booth
Almond milk is a great dairy-free alternative but often store-bought varieties are full of additives and artificial flavourings and sweeteners. So here's an easy way to make your own at home.
If you are cutting dairy from your diet or you just want to mix things up, almond milk is a good option. It's alkaline and a good source of protein and essential fats. It's also rich in Omega 6, Vitamin E, Niacin (which assists the conversion of carbs into energy), Riboflavin (vitamin B2 which helps absorption of certain vitamins) as well as calcium, magnesium, manganese, phosphorus, potassium and copper.
All of this means it is great for heart health, cell development, bone health, electrolyte balance, cancer prevention and glowing skin.
How to make almond milk
Ingredients
Makes 400-500ml
250g whole skin-on almonds
600ml fresh cold water
You can make it with just the nuts and water but if you want to sweeten your milk you can add in some optional extras such as:
Dates – add 2 or 3 (stones removed) – for fibre, vitamin B6, niacin, copper, magnesium, manganese and potassium. Dates help with metabolism, iron absorption, electrolyte balance, nerve and muscle function.
Coconut water – use half water, half coconut water. This mix is especially good for drinking after exercise to restore the electrolyte balance.
Dehydrated banana – add 3 slices of banana to the blend for sugar without the starchiness.
Half teaspoon organic vanilla powder.
You can also add in 1 tablespoon of maca powder during blending which is good for hormonal health.
Method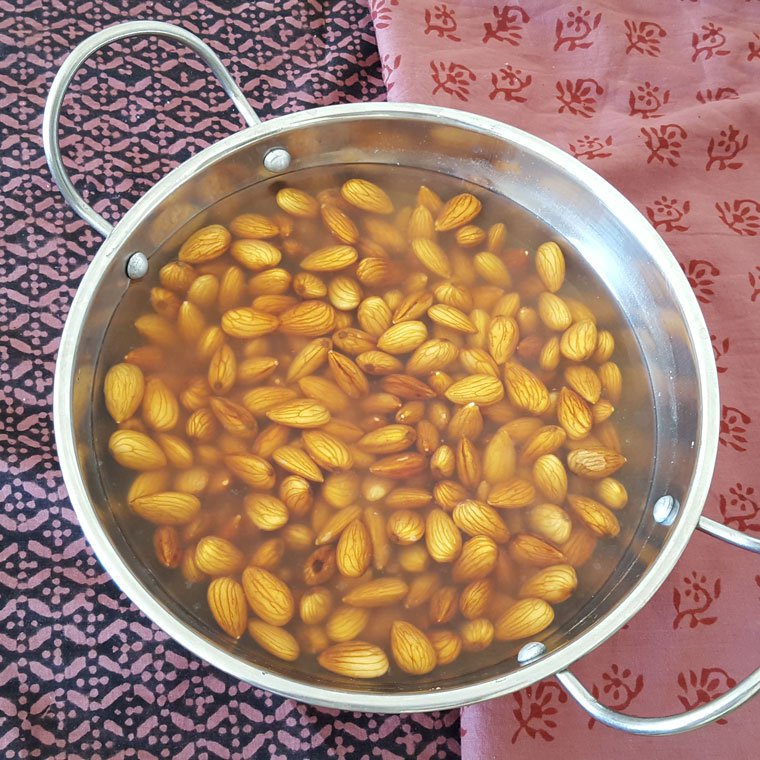 1. Soak the almonds for 6-8 hours or overnight. Make sure there's plenty of water to cover them as they will swell in size as they soak.
2. Drain and rinse the nuts and put them in a blender with the 600ml water (or half and half mix with coconut water if using it). Add in any of the optional ingredients – dates, vanilla powder, dehydrated banana etc.
3. Blitz all the ingredients at the highest speed until the mixture looks thick and creamy and the nuts are broken down into a coarse meal. I use a Vitamix – if your blender is not so strong you may need to start off at a slower speed and then turn it up as the nuts break down more.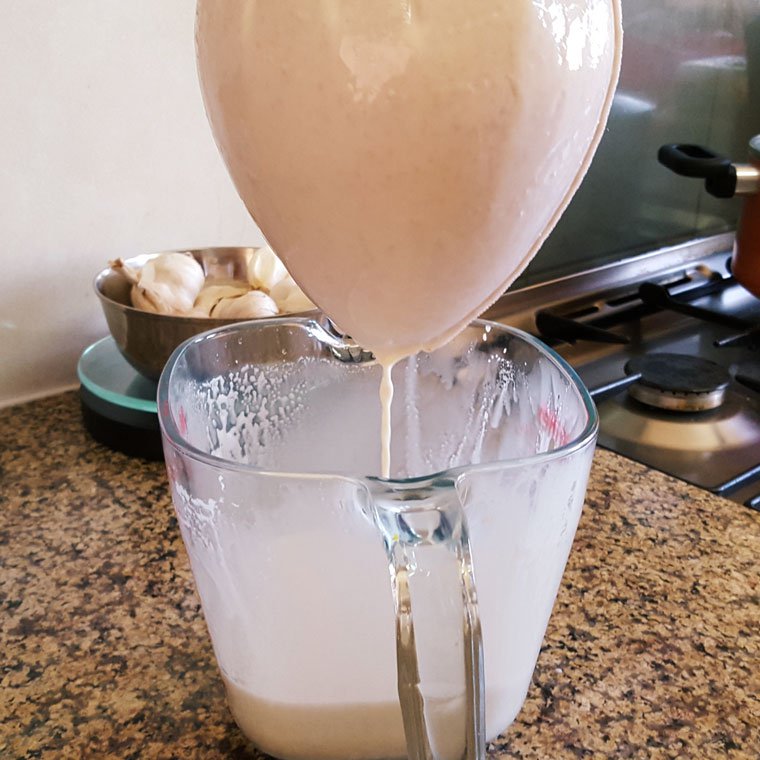 4. Pour the mixture through a fine sieve or I prefer to pour it through a muslin bag over a bowl and give it a good squeeze to drain all the milk through leaving just the pulp – very therapeutic! Save the pulp as you can freeze it and use this to add into soups (see below for a recipe).
5. If the finished milk looks too creamy, add a little more water.
6. Refrigerate and use within 4 days. It's normal for the milk to separate so shake or stir before use.
Serving suggestions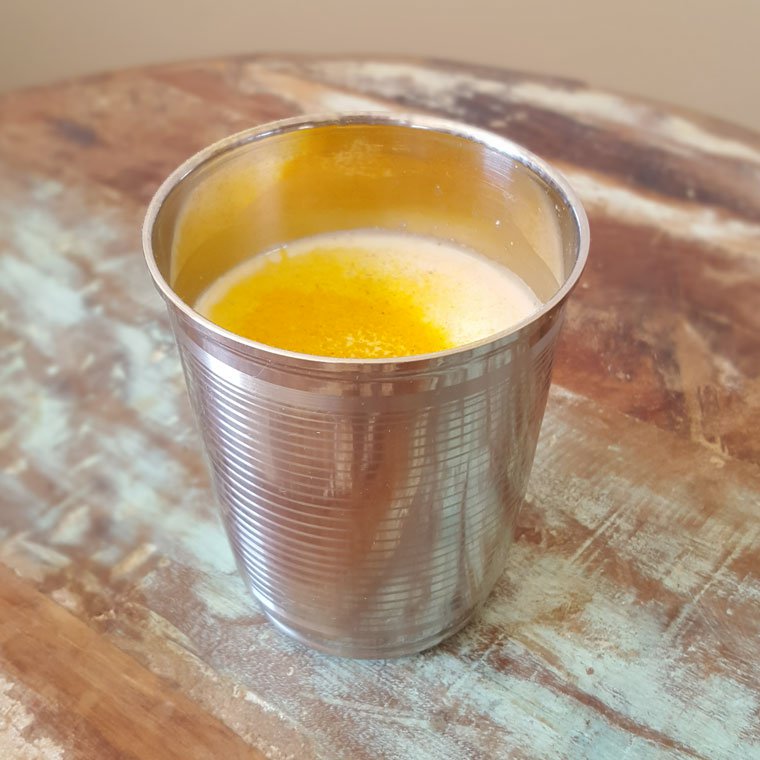 You can use the almond milk in place of dairy milk – although it will probably separate in coffee or tea.
Drink it as a breakfast or post-exercise drink – you can sprinkle a little something extra on it such as anti-inflammatory turmeric (see right), raw cacao, good quality ground all-spice or a little cinnamon to balance blood sugar.
Serve it over homemade granola or cereal.
Add it to a breakfast oat pot for when you are on the go or add to oat porridge.
Raw almond soup
What to do with the leftover almond pulp?
After you have strained the milk from the nuts you'll be left with the fibrous pulp which is perfect to make this soup with:
Ingredients
Serves 4 small bowls
2 cups of pre-soaked skin on almonds (soaked 6-8 hours)
2 tablespoons of almond pulp – leftover from the almond milk
4 cups of water
Juice of 2 lemons
2 tablespoons flax seed oil or olive oil
1 tsp cumin
1 clove of garlic, chopped
1 oz fresh tarragon or mint
Salt and pepper to taste
Method
1. Put the almonds, almond pulp and water into a blender and whizz until slightly thick.
2. Pour half of the mixture into a bowl and leave the rest in the blender.
3. Add the lemon juice and the rest of the remaining ingredients to the blender. Add the first bowl of almonds back into the blender, give it a quick whizz and then serve in bowls with a drizzle of oil and sprig of herbs for garnish.
For a warm version
Blend all the ingredients as above but use olive oil, not flax seed oil. Meanwhile, gently fry half an onion, 1 finely chopped carrot and 1 chopped stick of celery. Add the almond mixture to the vegetables in the pan and warm it through. If the soup is too thick add more water or coconut water. Serve with a drizzle of olive oil, pepper and parsley.