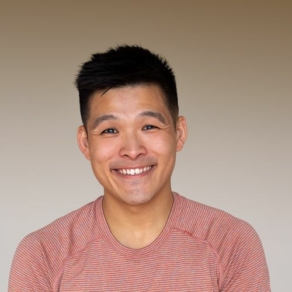 David Kam is a movement artist on a mission to champion movement as a creative practice through curiosity and play.
David was first introduced to Hatha yoga through cherished quality time with his mother. He eventually stumbled upon the practice of Rocket Yoga in 2013, which he still treasures to this day as it sparked his fascination towards play as practice within tradition. Since then, he has also studied Ashtanga and Mandala Vinyasa, with a growing interest in Restorative Yoga.
Growing up in Malaysia gifted David with a kaleidoscopic view of the world. He enjoys 'living between the lines', bridging languages across cultures and continents as he follows his curiosity. David's craft reflects 15 years of movement and artistic research. He holds degrees in both architecture and dance and most recently drew inspiration from free-form movement practices such as Fighting Monkey.
Practice David's classes as part of your EkhartYoga membership.
Not a member yet? Try us out with a two-week free trial.
David understands yoga as the practice of shedding light on where one lacks awareness. A firm believer that knowledge is a rumour until it lives in the body, his joyous classes are liberated from the seeking of answers. Instead, he encourages students to question freely through exploration beyond asana. Advocating moment to moment presence, David invites his students to honour their unique interpretations in sacred rhythm and desired scales of expression.
David ultimately encourages his students to get back into their bodies, to remember how to play and celebrate their unique expression. He actively shares his ever-evolving practice with warmth and sincerity to communities both in the UK and abroad, hoping to encourage the world to #keepkam and move playfully into a "greater, kinder everyday".