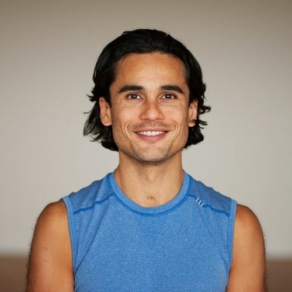 Jeff is an experienced London-based yoga teacher who teaches dynamic classes with a mindful approach. He enjoys being creative and experimental - working with a variety of themes, ideas and sequences.
Jeff has been teaching yoga since 2002 and for many years trained yoga teachers on triyoga's teacher training course.
He is inspiring and popular as a teacher because of his passion and unique style which emphasizes the true spirit and philosophy behind yoga. Strong but soft, dynamic yet meditative – there is an emphasis on skilful action to bring inner peace, balance and harmony. He enjoys being creative and experimental with his teaching – working with a variety of themes, ideas, sequences and a range of postures to help students deepen their practice and understanding.
His classes tend to have a meditative quality; learning to be present, rather than on 'automatic pilot' so that we can practise being as fully alive as possible in each moment in everyday life, not just on the mat!
He has had the opportunity to study with a wide variety of teachers with the main influences of his yoga teaching style being the emphasis on breath and movement of Vinyasa flow, the precision and alignment of Iyengar, the heart orientated grace of Anusara, the individualized aspect of Viniyoga, and the traditional philosophy and spirituality of the Jivamukti and Satyananda schools.
Practice Jeff's classes as part of your EkhartYoga membership.
Not a member yet? Try us out with a two-week free trial