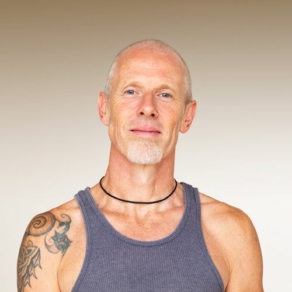 Meet Mark Freeth, founder of the Freestyle Yoga Project. His approach is movement-orientated, organic, open-minded, experimental and playful!
I've been involved in physical disciplines all my life – from kung fu in my early teens, through Greco-Roman wrestling, to fencing. There was a brief, intense period where I threw myself into circuit training (this was decades before Cross Fit) whilst I was searching for something that was non-combat/competitive. Then in 1995, I saw a half hour demo of Ashtanga Vinyasa Yoga (AVY) by the late Derek Ireland. I was hooked. I started training with him and his then partner, Rhada, the very next weekend.
AVY served me well enough and I started teaching full-time from 2000. But I did start to wonder about its prescriptive, dogmatic, regimented nature. I started looking over the 'yoga fence' to see what other styles had to offer and found a whole bunch of material that I didn't know was there, which, on occasion, I started to weave into – first my own training and then into my teaching.
It got to the point where I ended up training one way (often faster than AVY recommended and paying a little more attention to the space in-between positions rather than the positions themselves – even re-visiting some of my previous martial arts/wrestling drills), but still teaching trad AVY, albeit with a few variations thrown into the mix every now and again. I think it interesting that even at this point I started to lose a few of my more traditional students who felt I was tinkering with a system that didn't need tinkering with.
Coincidentally, around this time, I started training in NYC once a year after visiting friends who introduced me to some of their favourite studios and one I took to immediately was the Kula Yoga Project in TriBeCa. I loved the friendly atmosphere, their informal approach, the hard work and their open-minded attitude towards yoga.
My time with them kind of cemented the fact that, after asking so many questions about the haphazard way AVY had been put together – and getting no answers that meant anything – it was time to formulate my own approach which eventually became the Freestyle Yoga Project (I checked with Schuyler, the owner of KYP, that it was okay to use this name as the words were close to hers – she was fine!) and BOOM – I never looked back.
Basically, I'm at liberty to take whatever I want from any source (but acknowledge that source!), play with it, remould it, weave it into existing sequences, ditch it when it no longer serves me – in other words, 'freestyle'. Also, this process will never end – it'll be a continuous, organic 'project'.
I breathed a sigh of relief. I was a happy man. I remember hearing that one traditional yoga teacher had referred to me as practicing and teaching 'mere gymnastics'. 'MERE GYMNASTICS'? No-one – not least a yoga practitioner – could ever teach a gymnast (or a contemporary dancer) anything about breath work, focus, control. I decided to take it as a compliment… But I lost even more students! This is fine – you HAVE to go with what feels right even it means becoming even more niche….even if I was finding it hard to pay the rent.
And actually, that became problematic. It's all very well knowing you're on the right track, but you need students to teach it to! It was time for a major change. I decided I was done with hiring village/church halls to run classes. It was time to open a dedicated full-time studio, which I did in 2013 with the help of my great friend Amy and her awesome family.
And at exactly the same time, another coincidence! I'd been banging on about the lack of movement, strength and agility in yoga on social media, and a friend and colleague, Abby, said I should check out this guy who was talking along the same lines – albeit not from a yoga perspective. After a weekend training with Ido Portal everything changed. Again.
"We take the best from dance, gymnastics, martial arts and yes, even yoga, and create sequences that turn our students into superheroes!"
Ido and his work echoed what I'd been thinking about for a good few years. It had come to the point where, after having already ditched the dogma, the Sanskrit, the "cod philosophy", the religious trappings, the emphasis on flexibility – I could just get on with becoming strong, agile and mobile through subtle, complex, dynamic movement – sometimes functional, but not exclusively so. We take the best from dance, gymnastics, martial arts and yes, even yoga, and create sequences that turn our students into superheroes!
And this is where the Freestyle Yoga Project is now. Movement-orientated, organic, open-minded, open to suggestion, researching, experimenting, PLAYING. Come play with us!
Practice Mark's classes as part of your EkhartYoga membership.
Not a member yet? Try us out with a two-week free trial