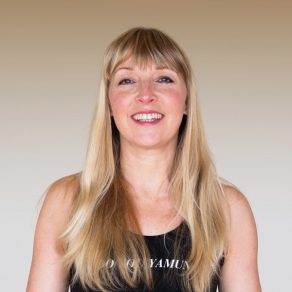 Nichi loves yoga, movement, nature and creativity and often threads creative ways of moving into her Vinyasa flows. She is a Yoga and Yamuna body rolling teacher trainer and runs regular UK retreats.
Nichi first discovered yoga whilst working as a drama therapist. She found it to be the perfect antidote to her work which was often very emotionally draining and through yoga she discovered the importance of bodywork and how it can enable us to shift trauma.
After completing her training in 2003 with Brian Cooper Nichi went on to open the first yoga studio in Yorkshire – The Yoga Space. Nichi has now been teaching for 20 years and running her studio since 2004, creating a strong yoga community in Leeds. She teaches Vinyasa style, Ashtanga, Hatha and Yamuna Body Rolling as well as running teacher training courses.
She considers her students to be her biggest teachers and tries to deliver student-led classes that educate, motivate and inform. More and more her teaching is based on functional yoga that supports healthy and fluid movement with a creative flow style. Her influences are varied. She seeks out teachers that are authentic and not dogmatic. Her own practice has come from many years of Ashtanga, Jivamukti yoga and Vinyasa flow and she endeavours to teach what she practices on her mat. She believes that teaching, like yoga practice, should evolve as we mature and develop and that we are lifelong students.
Nichi is registered with Yoga Alliance Professionals as a senior RYT500 teacher. She runs regular yoga holidays in the UK, mainly around the east coast.
Practice Nichi's​​​​ classes as part of your EkhartYoga membership.
Not a member yet? Try us out with a two-week free trial