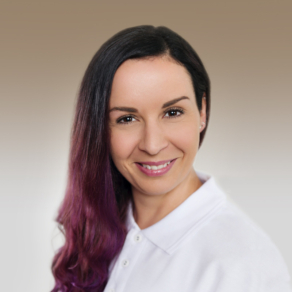 Ruth first experienced the power of Pilates to strengthen posture and prevent and alleviate injuries during her professional dance training. She's now a Sports Massage therapist and Pilates teacher, specialising in chronic pain.
Having trained in dance throughout her childhood, Ruth has always been inspired and motivated by the flow of dance and by the strength it required. She had her first taste of Pilates at ballet school as it was taught to strengthen posture and, alongside physiotherapy, used to rehabilitate injuries.
Thanks to an inspirational treatment, Ruth re-discovered Sports Massage in 2006. At that point she decided to put her anatomical knowledge to use and trained at the North London School of Sports Massage. Very soon after starting work as a massage therapist it became clear that all her clients could benefit from movement and exercise if they were not already doing it.
Ruth then trained as a Pilates instructor with Body Control in London. She qualified quickly and, ever since, has used the fundamental movements of Joseph Pilates' original repertoire with her own twist to help people gain better control and understanding of their own bodies. Ruth's additional training includes qualifications in pre and postnatal work and she now facilitates teacher trainings in baby massage and baby yoga for fellow EkhartYoga teacher, Katy Appleton.
Understanding the pressures of professional dance training, as well as being an experienced horse-rider and long hours spent in an office environment in her previous career means Ruth is well placed to deal with bodies from all walks of life. Add to that her struggles with inflammatory arthritis in her own spine, dealing with injuries, fatigue and chronic pain are issues she really understands.
Ruth's philosophy is to take an holistic, multidisciplinary approach, treating the body and mind as a whole to find the root causes of problems and creating management techniques through treatment and of course, exercise. Her teaching stye is precise and inclusive, designed to give you the confidence to move and feel better, often delivered with her dry sense of humour! She will cut through the jargon and offer straight-forward advice and reassurance. No matter your experience or injury, Ruth has your back.
"The Pilates method teaches you to be in control of your body, not at its mercy" ~ Joseph Pilates