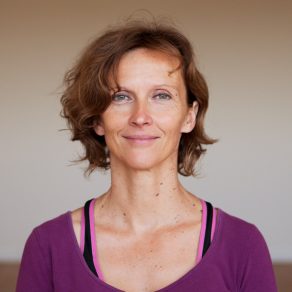 Veronique Gauthier Follow
Véronique is a yoga therapist and certified Advance Breathwork Practitioner.
Véronique attended her first Iyengar yoga class in 2000. She loved it straight away and soon became addicted to the mat! First drawn to yoga for its benefits at the physical level, she gradually discovered a whole new way of life. Over the years, she has studied and practiced different styles of yoga, including Iyengar, Ashtanga, Hatha, Kundalini, Vinyasa.
She first graduated as a Vinyasa Yoga Teacher with Frog Lotus International in 2009, and then completed an advanced training in Yoga Therapy five years later. She loves drawing from all these various sources of yogic teachings to create sequences adapted to the student's particular needs. 
Véronique's personal experience taught her that Yoga Therapy is a powerful and efficient way to manage one's health. Diagnosed with Multiple Sclerosis in 2000, she is convinced that yoga has helped her cope with MS in a variety of ways. Over the past few years, she has been increasingly drawn towards Breathwork, and completed a two-year advanced training in Breathwork with Breathwork Africa.

"The breath is the most powerful tool we have to improve our physical, mental and emotional health. From simple breath awareness to dynamic and transformative Conscious Connected Breathing, and in between, simple breathing techniques to regulate emotions and change thought patterns. The field of breathwork covers a vast range of breathing skills and can be truly transformative and healing".
Véronique now wishes to share this healing experience and give others the opportunity to experience the benefits of Yoga Therapy and Breathwork for themselves. She teaches online and in her new home studio in the Algarve.
Zoom classes, Workshops and Retreats
To find out about Veronique's online classes, workshops and retreats, please visit her website.
Train with Veronique on The EkhartYoga Academy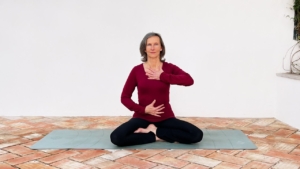 Breathwork for Life – a 9-hour online course
Learn the key differences between Pranayama and Breathwork, discover the link between our breath, thoughts and emotions and create personalised Breathwork sessions for you or your students to optimise your health and emotional balance.