What to expect:
This retreat is designed to slow you down and restore and revitalize you on a very deep level. When you are relaxed and your energy system is balanced, you can easily gain access to the world of reality, with all its joys, rather than being stuck in the world of the mind. We will mainly use yoga and meditation, but also lectures, inquiry, pranayama and silence as tools.
During the 10 days we observe mouna (silence) every morning from waking up till the yoga practice starts at 11.00. The early morning starts with meditation and pranayama. After breakfast and a silent break, we will continue with a fluid yoga practice that focuses on loosening the body as well as strengthening and stabilizing the body and easing the mind. In the afternoon we gather again to learn about ourselves and life through short lectures, inquiry, meditation, restorative yoga and yoga nidra.
There will be a maximum of 20 people on the retreat.
Enjoy full days of silence
This is a partly silent retreat. Within the 10 days there will be 3 or 4 full silent days (depending on the group). During the silent days the main focus will be on meditation, but the morning yoga practice remains.
As you begin to relax into stillness, you cultivate presence, awareness and an authentic relationship with yourself. You will get in touch with a felt sense of 'being'. It is a universal felt-sense that we all have within us. From birth, and throughout every moment of your life, being is a constant, quiet, background presence that's always with you. But until it is pointed out it can go unnoticed.
As well you may discover that being together with others in silence allows for a different sense of connection that can be more satisfying than spending the same time engaged in conversation.
You will access that same shared state of 'being'. Rather than knowing others through their stories of who they are and what they do, the silence highlights our sense of connectedness.
Sunday June 20th is our arrival day, and you will have time to chat and meet your roommates. Day 11, wednesday June 30th is a travel day again.
Please note: To really give the body and mind a break and observe true silence, all mobile phones will be collected during the few days that we are fully silent. A phone number of the retreat centre will be provided for emergencies.
Daily schedule:
08:00 – 09:00 Meditation/Pranayama
09:00 – 11:00 Breakfast + break, in silence
11:00 – 13:00 Yoga
13:00 – 17:00 Lunch/Free time
17:00 – 19:00 Meditation / discourse, with short breaks in between
19:00 – Dinner
20.15 – (optional) Meditation or a restorative practice
Arrival is on Sunday June 20th, Departure is on Wednesday June 30th. Both days are travel days. I will offer a short grounding practice to those who are there on arrival day in the evening and meditation on the morning of the 30th of June.
It is possible to arrive 1 day early, and stay for 2 days after. You can inquire when you sign up.
Cost per person for 10 nights
Shared room 2 people – €1495
Single room with shared bathroom facilities – €1690
Single room with private toilet and shower – €1845
Single luxury cabin – €1985
Includes ten nights' accommodation, fantastic meals served three times daily, coffee and tea plus all meditation and yoga sessions.
You can secure your place with a non-refundable deposit of €450. The remainder of the fee will be due by March 15th, 2020.
If due to the pandemic you cannot come, you will get a full refund (including the deposit) minus €25 admin fee.
How to book:
Please fill in the contact box at the bottom of the page.
The venue:
D'alijo Yoga Retreats
Rua de Alijo 36, 4860-133, Casal – Cabeceiras de Basto, Portugal
Map
---
About the retreat centre:
D'alijo Yoga Retreat Centre has a beautiful fully equipped yoga studio overlooking the gardens and valley, a dining/living area, and a beautiful pool, a large pond, Lush gardens, a biological vegetable garden. They have their own free range chickens and a couple of beehives on the property.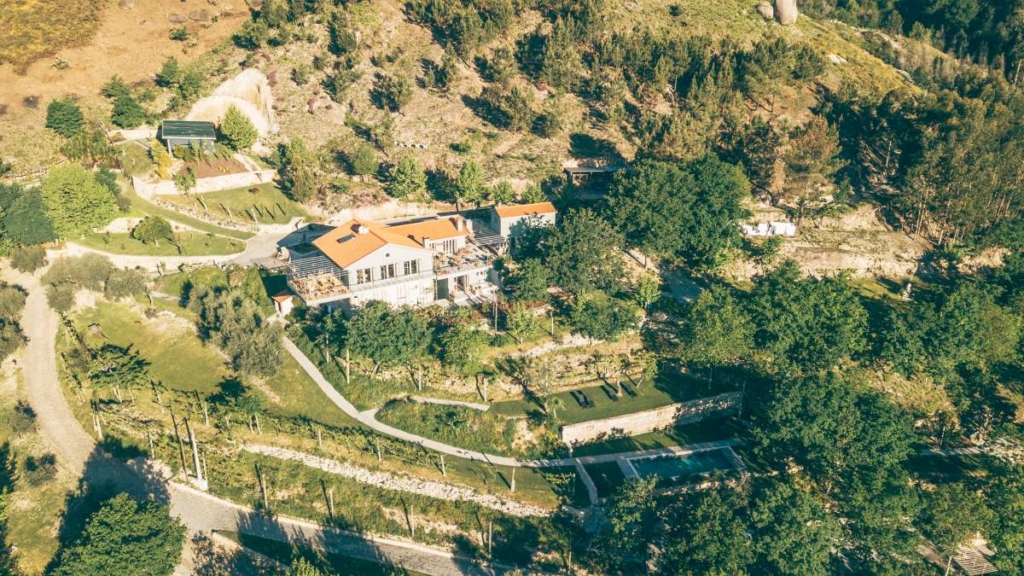 There are a couple of rooms in the main house and several wooden chalet style houses under the old eucalyptus trees, facing a natural creek. Some single rooms in private villas, a little further down the road.
The estate is remote, surrounded by nature and has a couple of great hiking trails, which can lead you to rivers and waterfalls. The closest town, Cabeceiras de Basto, is about 12 minutes by car. Guimaraes a Unesco listed beautiful city to visit and just 25 minutes away. Porto and Braga are within the hour as well as another UNESCO site: the Douro Port and wine region, the oldest still producing wine region in the world.
How to get to the D'Alijo centre
Please arrange your travel so you arrive on June 20th – you can check in to your room from 14.00. We will have dinner together followed by a settling in practice. Departure is on June 30th after breakfast.
Please fly to PORTUGAL PORTO AIRPORT. Transavia, Tap, Vueling, KLM, RyanAir and many more airlines, all fly there. If you are travelling by land please make your way to the airport to join the shared transfers. You can take a metro, bus or shuttle from Porto city centre to Porto airport.
Transfer time to the D'Alijo centre is 60 minutes by car from Porto airport. There are no public transport options to the centre. Transfers to and from the D'Alijo centre are not included in the prices. We can arrange shared airport transfers to and from Porto airport at €110 per car one way, maximum of three people. For bigger groups we can organise a bus.
A few weeks before the retreat we will ask you for your travel details and if you want to share travel to the centre. We will group you together so you can share costs.
Alternatively, you can find cheap car rental options via Rental cars, Transavia and RyanAir.
Please make sure you travel with valid travel insurance.
Register your interest