What to expect:
This week-long retreat will be full of yoga, meditation, inquiry, yoga nidra, pranayama and restorative sessions to bring you more peace, awareness, strength and stability in both your body and mind.
There will be a maximum of 24 people on the retreat.
It takes place in the beautiful surroundings of the D'alijo centre, surrounded by nature with stunning views, tranquil gardens, great hiking trails, leading you to rivers, waterfalls and natural pools.
Wake up to the mountain views enjoying the special energy of the early morning as Esther guides you through meditation.
When the weather supports it, some of the Meditation and Pranayama sessions can be taught outside in nature with the stunning views of the valley.
After breakfast, we will continue with a mindful flowing yoga practice that focuses on loosening the body as well as strengthening and stabilizing the body and easing the mind. Everybody can work at their own level.
After lunch we'll have a break where you can relax by the swimming pool, rest in your cabin or go for walks in the beautiful surroundings of the centre.
In the late afternoon we come together for some more yoga and awareness practices. The afternoon focus will be on deeply relaxing and restoring the body and mind while beginning to open to the mystery of the present moment, which is made so easy in this beautiful place.
The day will end with a lovely dinner and a beautiful dessert. Please visit the Dalijo website to view pictures of the centre, its facilities, and stunning surroundings. D'alijo Yoga Retreat Centre
Open to all levels
This retreat is open to all levels, but not for complete beginners. As a guideline, you should be able to follow the level 1 and level 1-2 classes on EkhartYoga with relative ease. It is important you know your boundaries and are aware when to back off to keep yourself safe.
If you are very new to yoga and want to join, please follow Esther's Yoga for Beginners Course on Ekhartyoga and then practise some level 1 and level 1-2 classes to prepare.
Daily schedule:
08:00 – 09:00 Meditation and Pranayama
09:00 – 11:00 Breakfast and break – in silence
11:00 – 13:00 Yoga practice
13:00 – 17:00 Lunch and free time
17:00 – 18:30 / 19:00 Talks, Awareness practices/ Inquiries, Yin and/or Restorative yoga leading into Yoga Nidra
19:00 – 20:00 Dinner and free time
20:15 – Optional extra meditation or restorative yoga
Please note: To allow for restoration of body and mind we usually spend the mornings in silence until the morning yoga practice at 11:00.
Sunday afternoon is free.
Arrival is on Wednesday June 1st. You can check in from 14.00 onwards. We will come together for a grounding yoga practice in the evening to help everyone settle in. Departure is on Wednesday June 8th.
Cost per person in Euros
Shared room 2 people – €1175
Single room with shared bathroom facilities – €1285
Single room with private toilet and shower – €1385
Single luxury cabin – €1485
The cost includes seven nights accommodation, great vegetarian meals served three times daily, plus the complete yoga, meditation and awareness program.
How to book:
To book your space and for inquiries please use the contact box below and we will get back to you with further information about joining.
To secure your place you need to pay a non-refundable deposit of €350.
The remainder will be due by March 1st 2022.
The venue:
D'alijo Yoga Retreats
Rua de Alijo 36, 4860-133, Casal – Cabeceiras de Basto, Portugal
Map
---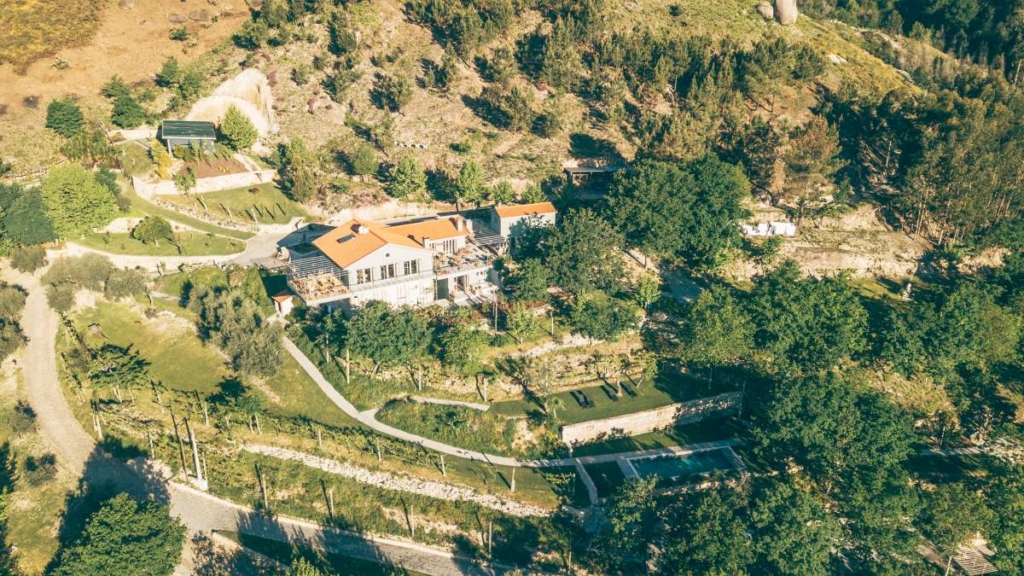 How to get to the D'Alijo centre
Please arrange your travel so you arrive on June 1st – you can check in to your room from 14.00. We will have dinner together followed by a settling practice. Departure is on June 8th.
Please fly to PORTUGAL PORTO AIRPORT. Transavia, Tap, Vueling, KLM, RyanAir and many more airlines, all fly there. If you are travelling by land please make your way to the airport to join the shared transfers. You can take a metro, bus or shuttle from Porto city centre to Porto airport.
Transfer time to the D'Alijo centre is 60 minutes by car from Porto airport. There are no public transport options to the centre. Transfers to and from the D'Alijo centre are not included in the prices. We can arrange shared airport transfers to and from Porto airport at €110 per car one way, maximum of three people. For bigger groups we can organise a bus.
A few weeks before the retreat we will ask you for your travel details and if you want to share travel to the centre. We will group you together so you can share costs.
Alternatively, you can find cheap car rental options via Rental cars, Transavia and RyanAir.
Please make sure you travel with valid travel insurance.
About Esther Ekhart
Esther is the founder of EkhartYoga.com. She has been practising yoga and meditation since she was a child and teaching for over 20 years. She brings her years of personal practice, therapy training and study of yoga philosophy into her teachings, creating a space for students to find peace and (re)connect with themselves and the present moment.
Register your interest