What we tested:
We stretched and sweated in these pants for months, noting how comfortable, durable, breathable, beautiful and well fitting they are. We took them from intense Vinyasa classes to gentle Yin classes and even wore them around the house. And it wasn't only the material we put to the test; we also took into account the companies' fair trade stories, rating them on their sustainability and eco-friendliness. Find out how the different pants fared in our tests below:
Best for: tailor made – they'll fit you like a glove!
Size range: XXS – L
Price: from €69 / $71.50
Material /Thickness: known for their soft and comfortable high-quality fabrics. They use 90% cotton (which is a natural material that feels comfortable on your skin) and 10% lycra. These leggings give great hold and stay in shape beautifully.
Fitting: medium, high, low waist & foldover options, for longer or shorter legs. Leggings stay in place while you, bend, stretch, do Downward dog.
Use: yoga wear / pilates / dance / casual-wear
Available from: www.funkysimplicity.com/
Team & teacher reviews
A hot favourite here in the EkhartYoga studio, we absolutely love the feel and fit of these pants. The cotton fabric is soft and strong and washes well. We even found ourselves taking them off the mat and onto the street. The prints are based on the animal world and are funky yet simple. Best of all, you can order them tailor made!
"My favourite yoga leggings of all time! So comfortable I wear them round the house and because they're tailor-made I don't have to roll them up – very rare for me!" ~ Kirsty, EY team writer
More about Funky Simplicity
Uniqueness: if you want personal changes made like a higher or lower waist or longer / short leg length, you can order this tailormade. Unique handmade prints varying from animal prints in natural colours to bright coloured prints / patterns.
Brand story: Funky Simplicity stands for quality of life; for knowing what you love and owning that. Your own timeless style and way of life without limitations.
Social responsibility / eco-friendliness: FS are a fair-trade company with all production done in Bali, supporting the local community and working only with small family-based factories.
OHMME 
Best for: men!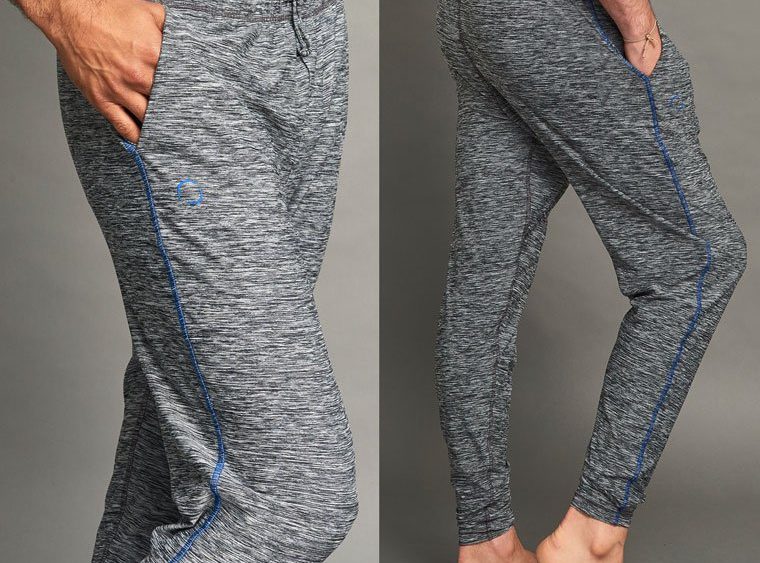 Size: XS- XXL 
Price: €72 / $82
Material: polyester and elastane.
Fitting: cozy and warm with a light feel. These pants can be rolled down to the calves for alignment based practices and rolled up to the knee for more dynamic practices.
Use: suitable for all forms of yoga (apart from hot).
Available from: www.ohmme.com/
Team & teacher reviews
The general consensus was that these are "cool pants" – very light, airy and comfortable with a lovely soft feel. The versatility and range of styles went down well – one teacher even "accidentally" (!) took them home with him after filming.
For longer workshops or yin/restorative classes I tend to wear the Dharma pants, which are a snugger fit and ideal when I am not moving so much. I would give these five stars and will definitely be back for more!" ~ David Dodd
More about OHMME
Uniqueness: made so that men could fit into two sizes simultaneously, depending on if they'd like a tighter or looser fit. Super comfortable hug around the calves, also allowing for a different fit rolled up or down on the leg. The bagginess around the waist makes these pants also suitable for relaxing pre and post yoga. Basically an all in one lifestyle pair of pants!
Brand story: "It's time to break the stereotype that yoga is just for girls. OHMME wants to encourage men to practise through the medium of stylish clothing. Women have a lot of choice when it comes to yoga clothing, men do not." Ohmme seeks to redress the balance.
Social responsibility /Eco- Friendliness: made in a high quality factory in Portugal, using well sourced materials and ensuring great worker care.
Best for: comfort – also fantastic during pregnancy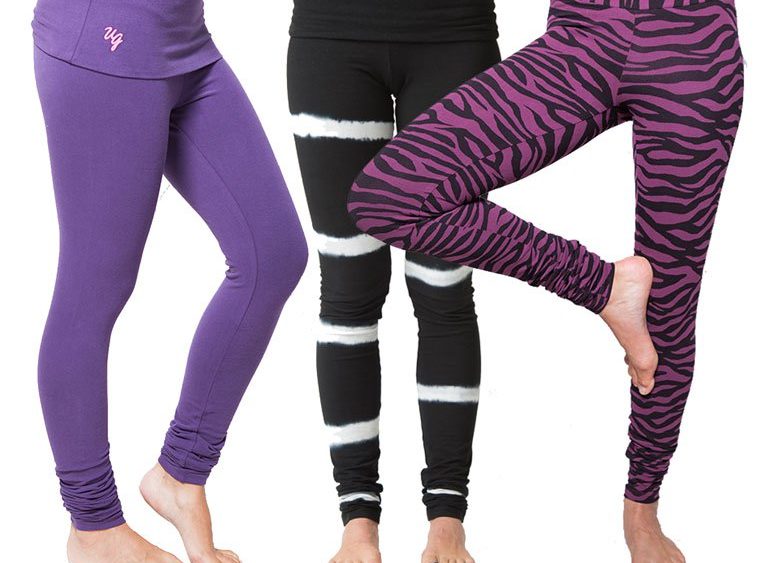 Sizes: XS- L
Price: €56.95 / $64
Material: 92% organic cotton and 8% lycra – GOTS (Global Organic Textile Standard ultra-soft).
Fitting: many of the pants have a fold-over waist to make them stay put and give you maximum freedom of movement and breath during your yoga practice. Also perfect for pregnant women.
Use: yoga, meditation, around the house, pilates and more.
Available from: www.urban-goddess.com/
Teacher & team reviews
These pants envelop you in their luxurious, warm and soft cotton embrace. The fit is generous and very comfortable, especially the pants with the fold over waist. The design is modest, classic and stylish. Another brand that you could very easily never want to take off, so you'll end up wearing it off the mat as much as on! This brand is extra close to our heart is because it's from our very own urban goddess, Marlene Smits!
"These pants are modest and stylish at the same time and lovely to wear! Also that they are made of organic cotton is very important to me." ~ Marlene Henny
More about Urban Goddess
Uniqueness: some pants have unique Sanskrit names and a description that explains the meaning of the name.
Brand story/promise: Urban Goddess' yoga pants and tops are "inspired by their modern city lives, urban and practical. Their yoga clothes are easily adapted for wearing on and off the mat: practising yoga one moment and finding some urban zen afterwards".
Social responsibility/ eco-friendliness: clothing is made from organic cotton and has a GOTS certificate which guarantees that the fabrics are made with no hazard to people, including good working conditions for workers and a definite no to child labour.
Best for: Their fun, bright prints and light, breathable material
Size range: S – XXXL
Price: €66 / $70
Material / Quality / Thickness: 78% recycled PET/ 22% Lycra Xtralife. Techno-fabric that is breathable and sweat wicking to keep your skin cool. Rated excellent for UPF protection. Fabric imported from Italy. Non-pilling.
Fitting / sizing: High waist roll-down. Pinch free, non elastic waist.
Use: Multi use – yoga, fitness, pilates etc.
Available from: yogademocracy.com/ and http://www.iloveyoga.nl/
Team & teacher reviews
These pants have a fantastic wide range of stunning prints (we are especially in love with the Gauguin-esque style prints), available in regular or crop style. The material is light and breathable with a high waist. These pants are great for all types of activities so we could take these onto the treadmill too. They are a slimmish fit, go with your size.
"In love with the prints! Slim fit but perfect! Great material, no see-through" ~ Irina Verwer
More about Yoga Democracy
Uniqueness: super quick drying. Hand-dyed in Arizona using an eco-friendly, non-toxic process fo fade- and bleed-free colors
Brand story/promise: Yoga Democracy was founded in 2015 to offer a sustainable active wear alternative. Virtually all of the products are produced in house at Yoga Democracy workshop located in Cave Creek, Arizona.
Social responsibility/ eco-friendliness: YD aims to produce 95% of their products by using recycled fibers. They are 100% vertically integrated from design to dyeing to sewing to order fulfillment: all carried out under one roof. Their tight supply chain allows them to keep carbon footprint small and waste to a minimum.
Best for: all shapes and sizes!
Sizes: XS- XXXXL
Price from: €64 / $68
Material: American-made knit and printed four-way stretch spandex/nylon fabric. High- performance moisture wicking, fast drying technology, lightweight, luxuriously soft feel.
Fitting: single layer, unlined for a 'second skin' experience, lightweight but known for compressions and "non-see through". Meant to fit snugly, smooth fit at hip, no 'muffin top'.
Use: multi-use – from hot yoga to spin classes, running, crossfit, surfing, paddle board.
Available from: www.k-deer.com/
Team & teacher reviews
We love these leggings! K-Deer has colorful and fun prints (especially the stripes), a high waist, which is also very comfortable for the more voluptuous of us and great stitching on the inside leg, giving great support. The fabric has a lovely breathable feel too! A few of us noticed that they can sometimes be a little bit see through, though. All in all, a great choice, especially for those who love to express their playful side. 🙂
"Colourful. I feel happy and bright wearing these pants!" ~ Esther Ekhart
More about K-DEER
Uniqueness: K-DEER's original flat-front seam is a superior, engineered design that avoids uncomfortable female fit issues – "no camel toe". No outside leg seam, for a smooth, chafe-free wearing experience.
Brand story/promise: K-DEER was started with the desire to share feelings of confidence, comfort and femininity with as many women as possible. In her first year, owner Kristine made 800 pairs of yoga pants by hand in her childhood bedroom.
Social responsibility/ eco-friendliness: K-Deer is dedicated to using high quality, American- made fabric, printed locally under strict eco-friendly guidelines. The team is committed to reducing their footprint on the earth by keeping the process local, efficient and low in waste.
Best for: Strong ethical and eco standards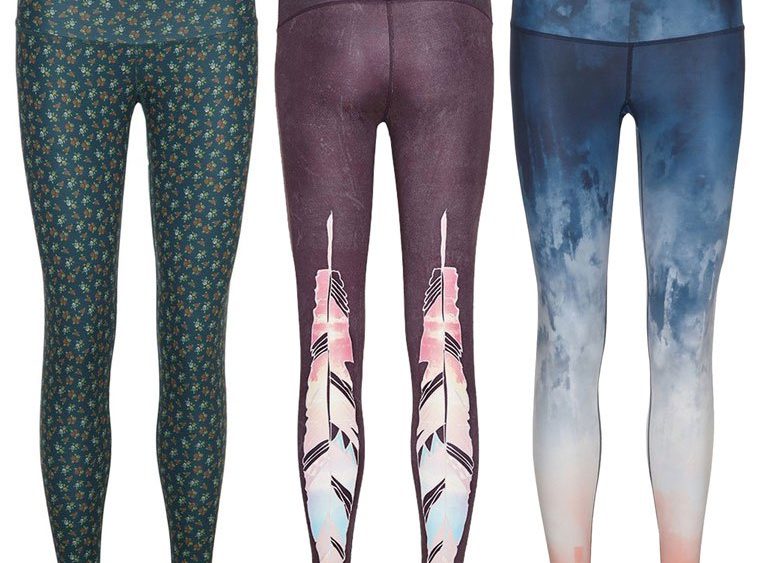 Size range: XS-XXXL
Price: From €85 / $90
Material: Eco Tex fabric 86% polyester, 14% elastane. Made for free movement, comfort and durability. Quick drying. Made in Italy.
Fitting: mid-rise, full-length leggings. The design is made to offer free movement where needed, while still offering a body-hugging fit made for performance, comfort and durability.
Use: These leggings are equally perfect for yoga, pilates, surf, swimming, dance or fitness.
Available from: www.moonchildyogawear.com/ and http://www.iloveyoga.nl/
Team & teacher reviews
We love the designs and prints of these leggings and commend the fact they offer larger sizes. However, some of us felt the sizing was not quite right – we suggest going a size smaller than you would normally choose. The material is soft and strong, but could perhaps have a little more stretch. They are made in the EU and the fabric is very eco-friendly which is a major plus! Another amazing thing about Moonchild is that they work with a charity to support vulnerable children in India.
"Great pants! Love to have them and would definitely have to buy a size smaller so they will fit better." ~ Jennilee Toner
More about Moonchild
Uniqueness: beautiful, nature-inspired prints.
Brand story/promise: Moonchild Yoga Wear is a Danish fashion brand founded in 2015. Moonchild's playlists are inspired by the colours and lights of the Scandinavian nature blended with beautiful and feminine minimalism.
Social responsibility/ eco-friendliness: designed in Denmark and made in the EU with certified eco-friendly Italian fabrics. Moonchild Yoga Wear and Action Child Aid have agreed to collaborate and support vulnerable children in India.
JIVA
Best for: strong, Vinyasa yoga
Sizes: XS-L 
Prices: From €75 / $79
Material / Quality / fabric: FreshFit technology prevents bacterial build up within the fabric.
Fitting: the waist band never falls down! Ankle has an over the heel option. Seamless comfort: their signature raw finish style ankle gives a second-skin like. They also boast the perfect amount of stretch and snug to keep you feeling secure.
Use: high intensity, yoga, surf etc.
Available from:  http://www.iloveyoga.nl/
Team & teacher reviews
This brand is great for those sweaty yoga classes. They are breathable and the fabric uses technology that prevents bacterial build-up so they will last much longer! The fit is definitely for the petite yogi though. The fabric feels very supportive and the print is very pleasing to the eye.
"Like! And I would buy them for sure!" ~ Adela Serrano
More about JIVA
Uniqueness: say good-bye to sticky wet fabric on your skin and hello to a post-work out coffee date with the UltraDry quick-dry fabric! Uses unique fibers that take sweat and moisture from the skin to the surface of the fabric, quickly enabling evaporation and the air to begin the drying process.
Brand story/promise: what started as two sisters sewing in their kitchen is now a creative adventure with a mission to stay active, live healthy and look good while doing it. JIVA is for the do-ers and go-getters, the ones making their dreams a reality and creating positive & passion driven shifts in the world.
Social responsibility /Eco-Friendliness – JIVA combines exclusive in-house designed prints with technical sweat-ready fabrics all hand-crafted in Miami, Florida.
Best for: Fashionistas and eco-conscious yogis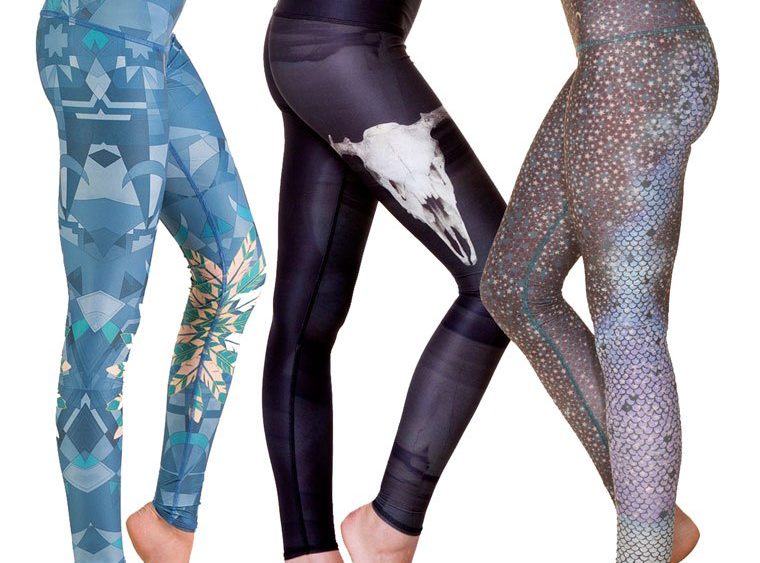 Sizes: XS – L
Prices: €67.80 / $72
Material: 7oz 79% recycled P.E.T/ 21% spandex – made with love in the USA.
Fitting: four way stretch to expand with your muscles in all movement, elastic free, breathable to reach the highest peaks, and chafe resistant.
Use: active lifestyle and adventures; yoga, gym, workout, surf, sports, dance, flow and constantly moving forward with your body, mind, and spirit.
Available from: teeki.com/ and http://www.iloveyoga.nl/
Team & teacher reviews
We loooove the fit of these leggings – "the more you sweat the more they stay in place!". The material feels like a second skin and the leg lengths were perfect for the petite (short!) yogis amongst us. The prints are varied and extensive so you'd be hard pressed not to find a style you liked.
Love the way these leggings look – colours, craziness, rock n roll! ~ Marlene Henny
More about Teeki
Uniqueness: "We're evolving, growing, and innovating. We're constantly coming up with new, better ways to make fun clothing that furthers our collective mission."
Brand story/promise: an eco-conscious activewear line. Teeki 'dances to a different beat, stretches with the yogi, runs to the highest peak, hikes in unexplored territories and swims where the ocean becomes one."
Social responsibility? eco-friendliness: Teeki's clothing is made from fabric that is spun from fibres made out of recycled plastic bottle then cut, printed and hand-sewn using only environmentally friendly practices. Teeki manufactures everything in the US, providing local jobs and reducing carbon footprint.
Best for: a 'sculpted' (yet comfortable!) silhouette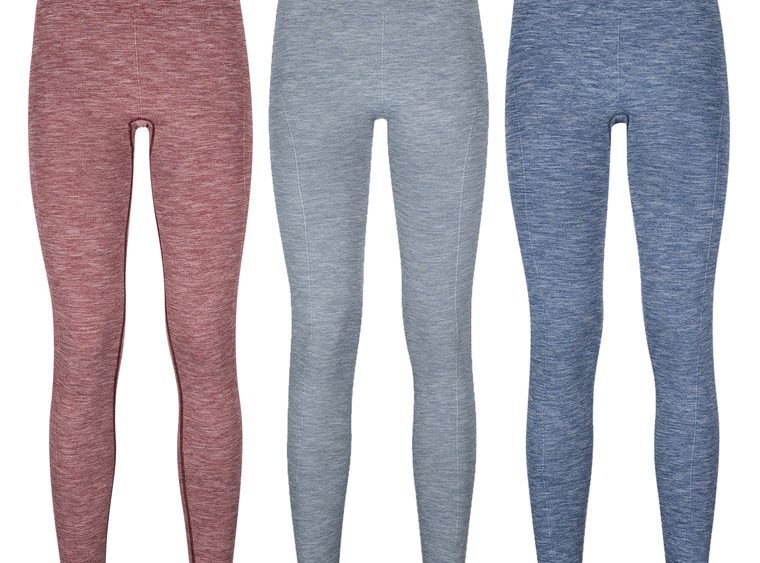 Size: XS-L (for larger sizes – 42/44 – they have the Abfab legging that it is a true treasure for bigger sizes).
Price: €75 / $80
Material: 68% polyamide/ 37% polyester and 5% elastane.
Fitting: Compressed seamless style. The Slimfit Legging (tested here) in compressed style ensures the legging is fully opaque and sculpts the body. Because of this compressed style, the Slimfit Legging looks small out of the package, but due to its stretchability, will happily adapt to your body.
Use: All styles except hot yoga.
Available from: www.tamethebull.nl/
Team & teacher reviews
We tested the Slimfit Legging and in one reviewer's words "they are the nicest yoga pants I've worn in a long time. The no seams and high waist makes for a really flattering look – but they're supportive and comfortable too. I will definitely be buying a pair!". The neutral colours went down well but it would be great to see them in shorter leg lengths.
"Feels like a second skin. Neutral and natural look and feel and love that the waist is adjustable!" ~ Jose de Groot
More about Tame the Bull
Uniqueness: combines functionality with feminine designs and fashionable colours and they're the only Dutch brand that creates functional, technical yoga wear in seamless style within Europe.
Brand story: "No Fear Yoga Gear" Tame The Bull company positions yoga as a 'sport with mindful benefits'. Once they realised that they always ended up buying technical yoga clothing from abroad (expensive and not always as beautiful as they desired) they decided to start producing the clothing themselves.
Social responsibility/ eco-friendliness: clothing is produced in Portugal in factories that are EU certified where working and production conditions are regularly checked. Nearby production also means that they cut down on clothing miles.
Best for: warmth, gentler practices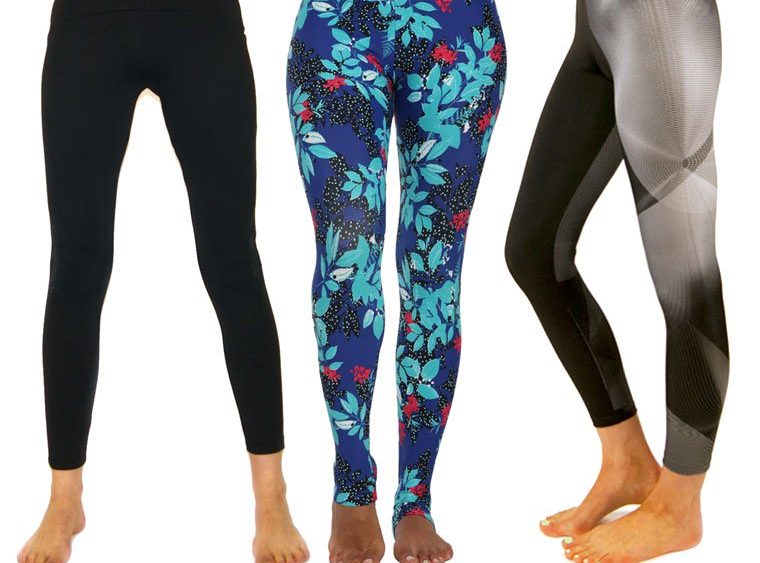 Size: S-XL
Price: € 59 / $63
Material: Made with Active LYCRA® Fibre Technology. 50+ UVA/UVB protective. Sweatshop-free. Quick-drying and durable.
Use: Activewear and yoga
Available from: liquidoactive.com/
Team & teacher reviews
Overall, we found these pants very comfortable and the designs brights and striking. High quality, sturdy material but one reviewer found the material a little see-through.
More about Liquido
Uniqueness: the company employs no one under the age of 18 and they have instated a Handicap Employee Program, where those with disabilities are provided with jobs.
Brand Story: in 2001, a family set up a small shop in the Brazilian neighbourhood in Sao Paulo, Brazil. Their intention was to produce and sell high-quality fitness clothing and swimwear at affordable prices for their customers.
Social responsibility: all of LíQuido's clothing is manufactured in Brazil, where the company abides by the high standards set by the Ministry of Labor in South America.
Best for: classic style, hardwearing, easy to wear off the mat
Size range: XS-XL
Price: £45-£79 / € 50 – €89
Material: Made from eco friendly organic cotton and bamboo. Bamboo, Organic Cotton, Elastane Use: Easy to wear, comfortable and 100% opaque, they are great for yoga, Pilates, a workout, or everyday.
Fitting: Asquith offers so many different types of pants but all are comfortable, ethically made and never compromise people or the planet.
Available from: http://www.asquithlondon.com/
Team & teacher reviews
We found the leggings to be hard-wearing but comfortable and easy to wear. The styles tend to be on the 'classic' side and some may find the colours a little plain.
These leggings are a perfect fit and extremely comfortable. They're stylish on the mat but I'm equally happy wearing them out and about ~ Esther Ekhart
More about Asquith
Uniqueness: The designs can be used both on and off the mat so women can feel good wearing them wherever they go: the school run, the beach, on a plane, as loungewear, as well as in the studio.
Brand story/promise: In 2002 Alice Asquith founded Asquith. Alice combined her love for fabrics and design with two other passions: yoga and Pilates. From the very beginning it was crucial to her that the activewear was ethically made in the best quality, eco-friendly fabrics that were as soft as they were hardwearing. She also wanted the designs to work as well on the mat as they do off.
Social responsibility/ eco-friendliness: Asquith is ethical and eco-friendly but also passionate about healthy lifestyles, clean eating, helping others and a gentle, ethical way of living – a holistic approach.
Best for: eyecatching prints, staying put!
Size range: XS – XL
Price: $78 / €68
Material: 82% poly, 18% spandex. Created from a high quality microfiber yarn that is breathable, quick-dry and super comfortable. Printed using sublimation printing, cut and sewn in California.
Fitting: 4-way stretching fabric for extra comfort and expansion with movement. Use: Perfect for a vigorous workout, great for everyday wear, and definitely a conversation starter
Available from: www.livesankalpa.com
Team & teacher reviews
We LOVED the lively, artistic designs and the print quality is excellent. These leggings have a firm supportive waistband which isn't going anywhere in Downward Dog and forward folds! They're great for the longer legged yogi too.
Perfect fit, great length. I truly am in love with the brightly coloured, funky prints! ~ Mirjam, EkhartYoga team
Uniqueness: A different independent artist creates every design and every purchase made directly supports the artist who created the design. Plus, every pair of their yoga pants has a matching yoga mat! (See our Best Yoga Mat Review)
Brand story/promise: Every purchase made helps support independent artists and yogis, and to connect people through art and yoga.
Social responsibility/ eco-friendliness: All yoga pants are printed, cut and sewn in Southern California.
Best for: durability and style on a budget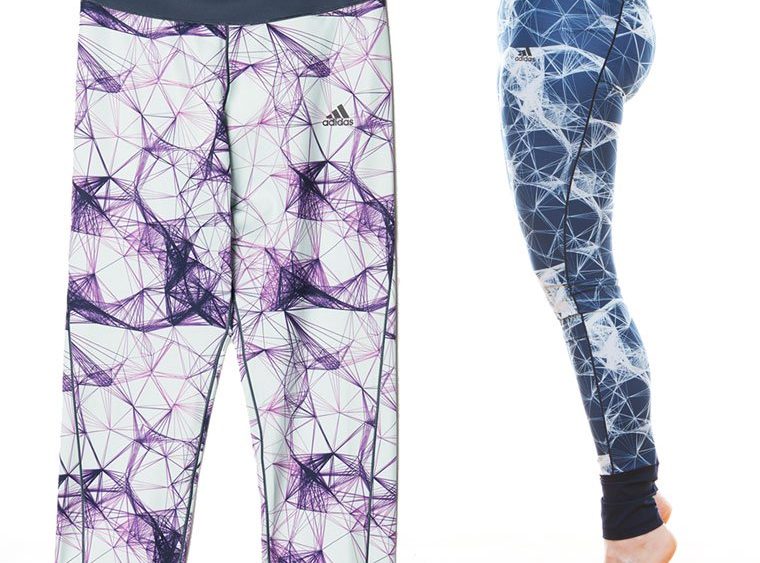 Size: XXS – XL
Price: €48 – $51
Material: climalite® fabric sweeps sweat away from your skin. 79% recycled polyester / 21% elastane interlock.
Fitting: Overlock stitching for soft, stretchy seams. Fitted fit. Inner waist pocket. Bonded waist for support.
Use: Active wear – yoga and pilates and more!
Available from: www.adidas.co.uk/yoga
Review
Adidas leggings fit wonderfully around the waist and bum! The larger size is a bit too wide on the ankle though. The print is classic yet striking.
More about Adidas
Uniqueness: accessible, reliable, high-street brand.
Brand promise/ story: "Everything we do is rooted in sports. Everything that happens in sports happens in moments. Every moment is a chance for the athlete to start over and take today".
Social responsibility/ eco-friendliness: these yoga pants are part of the Adidas sustainable product program. They are made from recycled polyester (PES), a synthetic fibre based on post-consumer waste, such as plastic bottles and used garments.
Best for: pranayama and meditation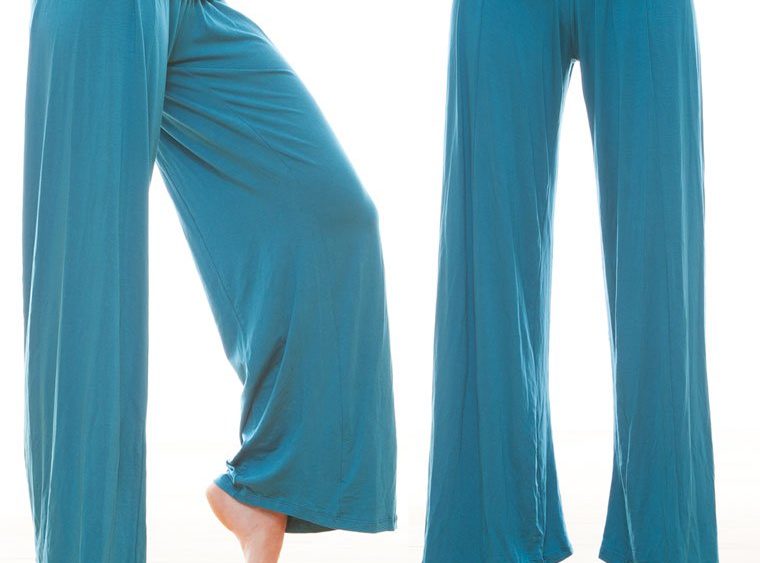 Size: S-XL
Price: €33.50 / $35.50
Material: made with raw material that offers a high standard of quality and durability without losing focus on the details.
Use: to practise and relax
Available from: www.devi.com.br/

Review
Lovely, soft, comfortable material, 'hangs' beautifully, great for meditation or just chilling.
More about Devi:
Uniqueness: Devi supports the Brazilian Vegetarian Society, manufacturing and reselling the shirts from the "Meatless Monday" campaign.
Brand Story: the brand was established in 2001 and born of the experience in the practice of yoga. They pitch themselves as 'the pioneer in the line of clothes for yoga and pilates'.
Social responsibility/ eco-friendliness: they compost their waste and plant native trees at the end of each playlist.
To sum up…
Here at EkhartYoga we appreciate the value of substance over style and, of course, there's nothing wrong with practising in your pyjamas or buying second-hand leggings…However, if you are seeking the perfect pair of yoga pants (and let's face it, it's a HUGE market!), we hope we've given you a few ideas. To sum up, it's been encouraging to see how many brands are embracing their social responsibilities but we'd love to see more brands offering a greater range of styles in larger sizes and also more choices for men…but we hope this will change and we intend to keep adding more brands to this blog. Keep an eye out for an update in the coming months.