Esther Ekhart ran a Kindness Challenge on Facebook and Instagram recently. During the week she invited us to ask ourselves a different question each day:
What can I do to be kind to my body today?
What can I do to be kind to my mind today?
What can I do to be kind to others today?
What can I do to be kind to the environment?
How will I keep being kind to myself and the world?
The question on day 4 stuck out for me. Proudly, my monkey mind made a list of all the things my partner and I had changed in our routine to reduce our environmental impact and move towards being zero waste. This is something we've been trying for the last 8 months and I have to admit that at first, I felt I wasn't 'green' enough to consider zero waste living. But after some research and time, I found many changes were much easier to implement than I initially thought.
So, therefore, my answer to that question in Esther's Kindness Challenge came very naturally: I will be kind to the environment by sharing with you a few easy tips to reduce your waste and take good care of our planet.
1. Replace single-use plastic bottles with a reusable water bottle
This might sound obvious nowadays but many of us habitually use plastic bottles as they're so convenient and (too) easily accessible. I used to wash and reuse them but that meant I was still throwing some plastic bottles away. Plus these bottles are designed for single use only, so reusing them over and over might mean you're drinking a bit of plastic at some point. No thanks! I finally bought a metal water bottle as I don't like the taste of plastic reusable ones; they're more solid too. When choosing yours, be sure to buy a lightweight one so that you'll take it everywhere with you.
2. Replace paper towels with washable napkins
I was a big fan of the paper towel. Don't ask me why… I guess the capacity of absorption always amazed me in some way (yes, I'm always spilling drinks!). Plus, I thought that washable napkins would become permanently stained in a few days. But I finally gave it a try, and I'm really happy with them. I have one set at home and one I take to work for lunch (along with my reusable water bottle, of course ;).
3. Replace aluminium foil and plastic wrap with beeswax food wrap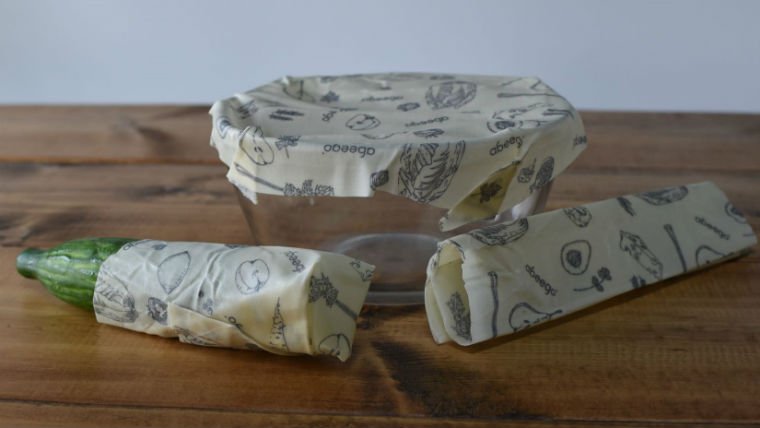 At a Zero-waste conference, the speaker shared with us a (so-easy-I-face-palmed-myself) tip to avoid aluminium foil and plastic wrap: when you have leftovers in a plate, put a bowl to cover them; when they're in a bowl, cover it with a plate. Simple!
But at times I still used aluminium foil – to wrap half a melon, for instance. One day, we received this wonder from our friends: beeswax food wrap. It's washable and reusable for at least a year. I use it a lot, it never sticks to food, does not give it any taste, and takes whatever form you give it. (n.b. beeswax doesn't like heat, so it's not suitable for hot meals, nor meat or fish as you can't wash it at a high temperature.)
4. Replace aluminium foil for baking with a silicone pastry mat
If you like to bake, instead of using foil to cover your baking tray, you can buy a silicone pastry mat, which you can even use for 'non-pastry' stuff. It's non-sticky, very resistant and dishwasher safe. Just make sure you know what temperature it can resist before buying – ours can resist up to 240°C – 464°F which is enough for most uses.
5. Use washable cotton pads instead of disposable ones
I don't know about you, but sometimes I bought cotton pads that were too harsh for my skin, and sometimes I bought the smoother ones that disintegrated in 10 seconds. Using 1 to 2 pads a day means 365 to 730 pads a year – per woman! Washable facial pads are quite inexpensive for their quality, durability and softness so why not try those instead?
6. Make homemade hygiene products and cosmetics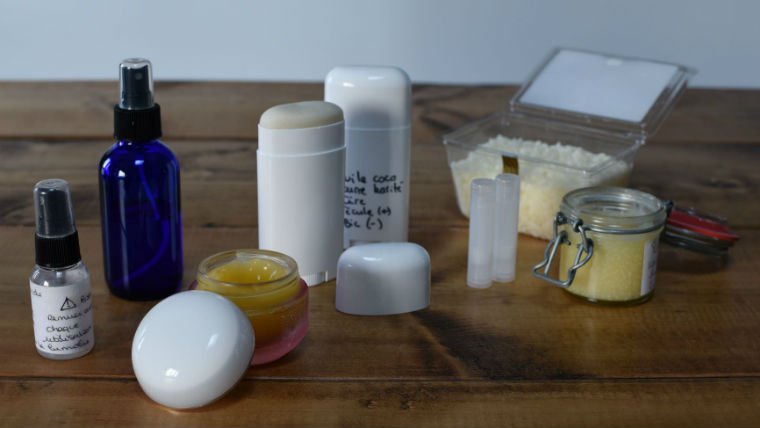 This is actually how it all started for me. Last December, I was at a craft market where a small company was making cosmetics and deodorants from coconut oil. As I was always disappointed with commercial deodorants, I thought, 'why not try something 100% natural?' So I bought one, and for the first time, I was actually satisfied with my deodorant! I made a quick search on the internet, because: "it's only 3 ingredients already there in my kitchen, it can't be that hard to make…". And indeed, it's so simple. And natural. And zero-waste!
I then found recipes to make body and hand cream, after-sun gel, lipstick… The sky's the limit.
Want to try home-made deodorant? Here's my go-to recipe:
Makes 2 sticks of deodorant – you'll need to reuse an old deodorant stick for this method
6 tablespoons (90ml) coconut oil or 4 tablespoons coconut oil and 2 tablespoons of white beeswax pellets *
¼ cup (60ml) baking soda
¼ cup (60ml) arrowroot powder or cornstarch.
Optional: if you want an even more powerful version for when you run a marathon (!), add tea tree and palmarosa essential oils (15 drops of each)
*Coconut oil melts at 24°C, so if you want to keep your deodorant out of the fridge use the beeswax and coconut oil option. Use white beeswax because the yellow one might stain white clothes.
Method
Gently melt the coconut oil (and beeswax, if used) on a low heat. Remove from the stove and add baking soda and arrowroot/cornstarch.
Stir until the ingredients are well mixed. Add the essential oils at this step if you like. Pour into a deodorant stick, and either let it harden at room temperature if it's not too hot, or put it in the fridge first and then leave it on the counter until you are able to roll it up and down.
7. Make your own household cleaning products
Now that you're a chef in hygiene and cosmetic products, you'll find homemade household cleaning products a cinch to make! An all-purpose cleaner only contains…white vinegar! (don't worry, the smell will fade quickly).
To clean a dirty stove top or oven, make a paste by mixing baking soda and water.
Making your own laundry soap is a lot easier than you may think and very effective:
Mix 14 cups (3,5L) pre-boiled water, ½ cup (125ml) liquid Castille soap, ½ cup baking soda, and 1/6 cup (40ml) salt. Shake it well before each use. For a regular load, use between ½ and 1 cup depending on the hardness of your water.
8. Always carry a reusable bag with you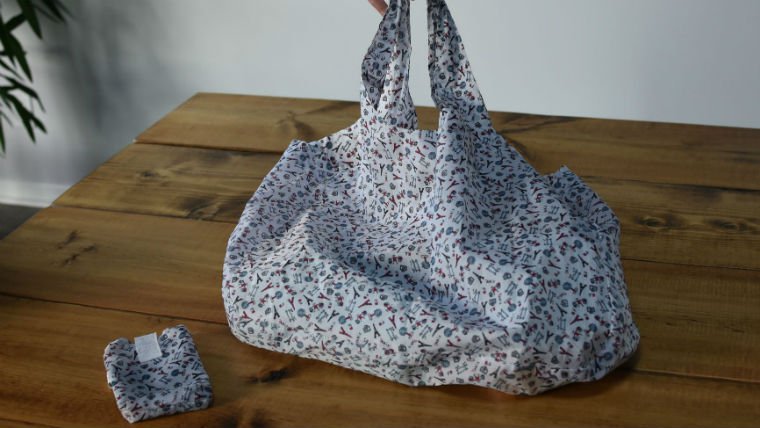 No, not the big reusable bags for the groceries but the material ones that come in tiny packages. They're light, thin, don't take up much space in your bag and you'll use them a lot: you go to the pharmacist: you have your bag! You see a beautiful pair of shoes or jeans but didn't plan on shopping today: you still have your bag! You go to the restaurant and have leftovers: you have your bag to carry the doggie-bag 🙂
9. Replace single-use fabric softeners with wool dryer balls
If you like arts and crafts, you can find tutorials on the internet to make your own wool dryer balls. Otherwise, you can buy them in eco-friendly stores or even at the alpaca farm 😉 They'll last for ages.
10. Buy in bulk and bring your own containers
There are more and more stores where you can buy in bulk and use your own containers. From flours to cereals, sweets to tea and coffee, oil and butter to laundry soaps or shampoo. You can buy (or make) reusable bags for loose fruit and vegetables. There are even grocery stores that allow you to buy your meat and cheese in your own containers. This last option is new where I live, so we still forget our containers at home quite often, but it's a work-in-progress!
11. Switch to zero-waste sanitary products
("11? Okay, I said 10, but this is a biggie.) Once you've mastered these 10 steps, here is a bigger challenge. Why? Because of taboos. Of course, I'm talking about menstruation. Not only do disposable tampons and sanitary towels contain many chemicals; it's estimated that on average, a woman will use between 8,000 and 15,000 of these products during her lifetime. This represents between 20 and 45 millions sanitary products globally in a single year. So yes, taking the zero-waste path in terms of menstruation (or washable diapers for the green parents out there) may not be glamorous…but our health and the environment are worth breaking the taboos for.
It's estimated that on average, a woman will use between 8,000 and 15,000 of these products during her lifetime. This represents between 20 and 45 millions sanitary products globally in a single year.
You can find washable menstrual cloth pads or panties that are thin, comfortable and usually locally-made (here in Québec we have at least 3 local factories that make these products). And, of course, there's the well-known menstrual cup. I invite you to read up on these products. And don't force yourself: you'll be ready when you're ready! And if it never happens that's okay: we all have our boundaries and we should always respect them.
I hope these suggestions inspire you to take this worthwhile path toward reducing your waste. Please don't hesitate to share other tips, or ask questions in the comments below.
Océane x
About the author:
Océane Vicente is a French Canadian EkhartYoga member. She's passionate about DIY, nature, the wonders of life, and of course yoga and meditation! Jon Kabat-Zinn and Esther Ekhart changed her life by helping her deal with anxiety and be more serene.