I always loved giving myself fully, whether at work or at the gym. For me, limits are there to be stretched and this desire to constantly push against my limits is one of the strongest traits of my personality.
The first signs
One day, 12 years ago, while enjoying a step aerobics class, I lost control of my right foot. I tried to put it flat on the step but it kept slipping sideways. The same thing happened in the following days. I also felt a very strong tingling in my legs. It was quite painful.
I will always remember what the GP told me when I went to see him:
" It could be anything. Something as simple as a stuck nerve or something as awful as Multiple Sclerosis."
That was at the beginning of 2000: I was 34. I had lived in Dublin for three years and had just started a PhD about the Irish economy while teaching at University College Dublin. My future seemed to be in a perfectly straight line. Then everything changed.
Other symptoms appeared
Other symptoms appeared: blurred vision, colours becoming darker, fatigue… But around the same time, one of my brothers got ill and lost his fight against cancer in November. I just couldn't face going to the neurologist and postponed the appointment. When I finally went, the MRI scan and lumbar puncture confirmed my intuition. I was officially diagnosed with MS on February 4th, on St Véronique's Day.
My main challenges with living with MS
People sometimes ask me what is most difficult when you have MS. For me, there are three main challenges.
1. Living with uncertainties
Not knowing what will come next. Of course, none of us knows what's going to happen next but when you live with MS, this uncertainty is present all the time and can have immediate and devastating effects on your daily life. Everything is possible. Nothing is certain. I learned to accept this, without thinking the worse will happen!
2. Feeling good in my body
Second challenge – a huge one – is to feel good in my body despite MS. I had always thought that to be happy and feel good in my mind, I had to feel good in my body. That's why I loved the gym. Feeling my muscles get stronger, more flexible gave me real pleasure and appeased my mind. Suddenly, my body was destroying itself. How not to be angry? An MS nurse once told me to consider MS as a friend, not as an enemy. This was a great piece of advice but easier said than done!
3. Leave space
The third challenge is to leave "space" for MS in my life without letting it take over. MS needs space in terms of energy. I try, as best as I can, to keep 20% of my energy just to manage MS. If I don't respect this limit, it backfires. MS is a very demanding friend indeed! I must admit that I struggled a lot to find a compromise between the part of me that wants to push back my limits and the part that knows I shouldn't overdo it!
My yoga journey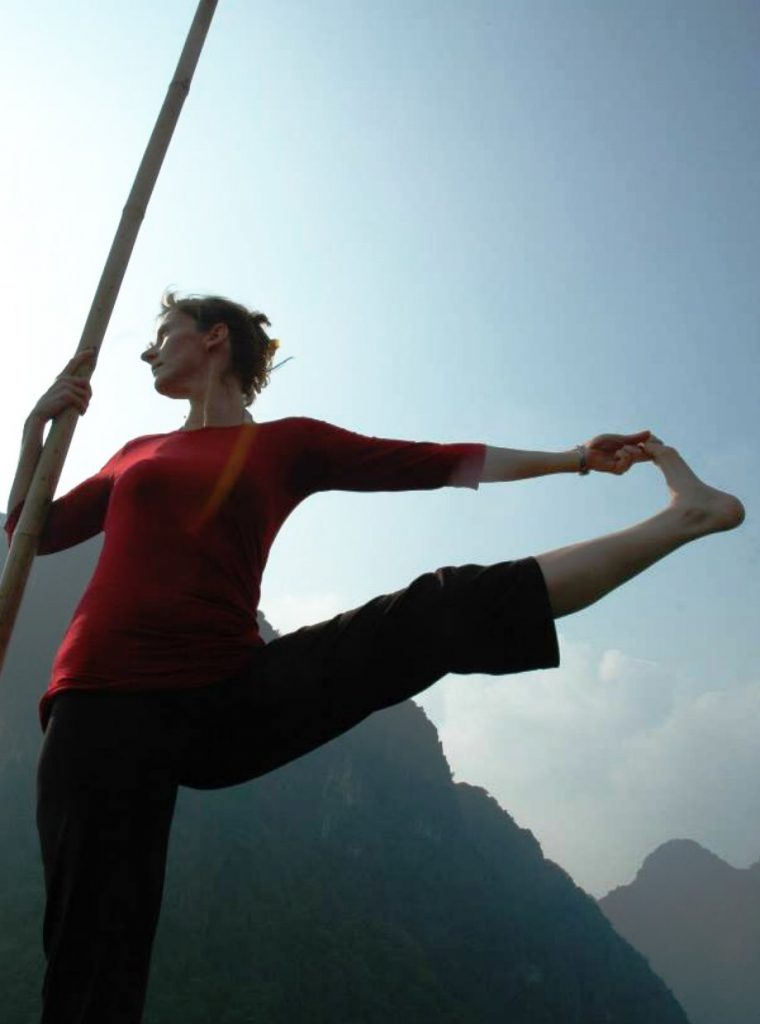 Yoga has helped me deal with these three challenges and I am absolutely convinced that without yoga, I wouldn't be as healthy and happy as I am now.
I attended my first yoga class in 2001. I didn't think I would like it but I decided to join an Ashtanga and an Iyengar class. At the time I was more into spinning, squash, aerobics… I loved sweating! I believed that yoga would be too easy and boring.
A whole new path opened up
I was first amazed by the complexity and beauty of the asanas. But it was tough. I remember one class in particular. On that day, I had no sensations in my left leg. It was "working" fine but I couldn't feel it. However, since I really enjoyed the class, I decided to go. Everything went well until the teacher asked us to do Ardha Chandrasana, the half moon pose. I fell. Not just on the left leg, I also fell when standing on the right leg! I became aware of the need to tame my mind and overcome my fears in order to control my body.
I also became aware of the poses that alleviate MS symptoms. I got to know which poses not to do when I feel vulnerable and which ones give me comfort.
My personal experience motivated me to become a yoga teacher. I first did a 200-hour Teacher training with FLY and started to teach Vinyasa flow classes. However, I felt more and more drawn towards Yoga Therapy and decided to further my training in India. I completed a 500-hour advanced training in the Paramanand Institute of Yoga Sciences & Research. Thanks to this training I now understand better why the poses I intuitively found useful are good and how to use yoga to address specific issues. I discovered new "ways" to balance energy based on yoga and Ayurveda teachings.
And I keep learning, exploring and sharing. I hope to encourage people with MS to give yoga a try, even if they believe it is too easy or too hard. No matter what the level of fitness is, yoga has many "tools" to offer that make living with MS far easier. You have nothing to lose and so much to win!
Related articles:
You can find Veronique's Yoga for MS programme right here on Ekhart Yoga.