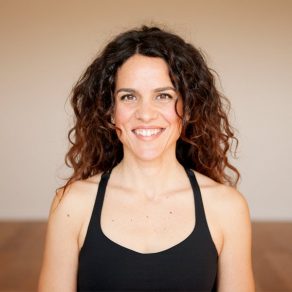 Adela Serrano Follow
Adela is a certified Iyengar Yoga Teacher, following the Iyengar tradition with a compassionate and skillful approach. Extensive anatomy knowledge ensures Adela's teaching is safe but also challenging for all levels.
Her classes bring attention to the poses and movements/actions as a way to access a more refined body and mind awareness. Adela also specialises in injury prevention and injury recovery.
Adela is a former banker and economist but when she experienced Iyengar yoga for the first time she knew that that was her calling – the precision of the Iyengar practice and the way the method makes yoga accessible for everyone captivated her immediately. It also encouraged her to undergo the strict, in-depth training necessary to become an Iyengar Certified Teacher.
She has a 500 hrs (Registered Yoga Teacher) certification by the Yoga Alliance through the Yoga Works Teacher Training program in New York and is proud and grateful to be part of the YogaWorks alumni and teacher lineage. Adela continues to follow an ongoing training according to the standards of the Iyengar Yoga Association which are personally supervised by the Iyengars in Pune, India.
Adela lives in Amsterdam, where she continues to teach yoga with the same passion as she experiences from her own teachers in New York and Amsterdam. When not teaching yoga, Adela loves to escape into nature and to Spain, where she is originally from. She also loves music and plays piano with her two kids singing along.
Practice Adela's classes as part of your EkhartYoga membership.
Not a member yet? Try us out with a two-week free trial.