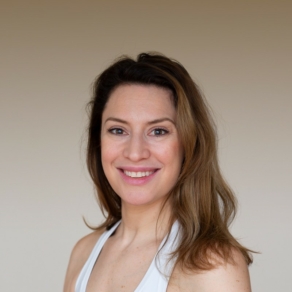 Amy is a yoga teacher and former osteopath who teaches light-hearted movement classes that mix yoga with other disciplines, such as dance and martial arts, to give you a varied practice.
Amy loves to move and have fun in the process. If you enjoy that too then you'll love her dynamic flow classes. She also offers slower mobility and relaxed movement flows for days when you need a little less intensity and more self-nurture.
Practice Amy's classes as part of your EkhartYoga membership.
Not a member yet? Try us out with a two-week free trial
Amy has always been into movement, from athletics to dance, parkour, gymnastics, and even flying trapeze! Amy brings movements from this varied background into her classes to take you slightly beyond your comfort zone where the magic happens and to help you build a stronger, more robust and versatile body.
Amy started yoga while training as an osteopath, so she has excellent knowledge of anatomy and biomechanics and how this works with yoga. After qualifying as an osteopath, she studied yoga with Edward Clark and Nikki Durrant of Tripsichore Yoga in London, Dharma Mittra in New York, clinical Pilates with the Australian Physiotherapy and Pilates Institute and she is constantly seeking new ways of moving.
Whilst technique is important to Amy in terms of movement efficiency, so is having the freedom to move and experiment and move in ways that work for you, so you'll be given opportunities to move your way in her classes. Two of Amy's philosophies are that movement should be a pleasure, not a chore (although some things are just unpleasant!); and empowering her students through movement autonomy.
Amy also assists people to overcome pain and injury through movement and mindset – by transforming their thinking about their pain using techniques she learned from The Demartini Method that helped her overcome her own injuries; she presents seminars and workshops on rethinking pain.