Esther Ekhart Follow
Esther Ekhart, face and founder of EkhartYoga, brings years of personal yoga and meditation practice, therapy training and study of yoga philosophy into her teaching.
Esther worked for many years as a therapist and has a huge fascination with the human psyche. Through her spiritual studies (including the Clarity Process) and application of this knowledge in her daily life, she found that old conditionings are what hold us back from experiencing the reality of the present moment as it really is. It is this learning that Esther brings into all her teachings. She aims to enable her students to see past their old stories, freeing them up to experience the truth – the moment as it is now.
—
Practice Esther's classes as part of your EkhartYoga membership.
Not a member yet? Try us out with a two-week free trial.
—
Esther loves teaching more dynamic styles like Hatha or Vinyasa Flow, focusing on strength, stability and fitness, along with slower practices such as Yin yoga and Meditation that allow you to drop in and get to know yourself better.
Esther is grateful to her early teachers: Clive Sheridan, who taught her not to take anything too seriously and Taetske Kleijn, with whom she studied the Clarity Process, and also her training and work as a therapist.
As an avid student Esther is continually evolving her practice through further training and study. Esther is always open to questioning previous teaching methods (including her own) and challenging herself, integrating new learning and insights into her classes.
"Throughout my life, practising yoga taught me to relax, how to find a way out of worries and stress. Yoga showed me the joys of being fit and strong. Yoga taught me to self-reflect and to accept life as it comes…finally, yoga and my clarity work showed me that there was nothing to 'find' and that everything I was looking for is 'right here, right now.' And all I could ever do was to let go of the bondage that stopped me from experiencing the truth. I will always be very grateful to the path of yoga, the Clarity process and the miracle that life is."
Train with Esther Ekhart on the EkhartYoga Academy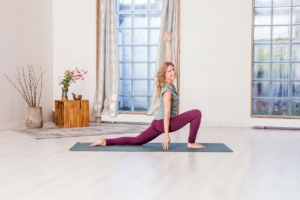 Take your yoga studies further with one of Esther's specialist courses on the Academy:
The Art of Sequencing – Improve your home practice and teaching skills. Learn how to create intelligent, safe and well-balanced sequences.
Respond from Love – Learn meditation techniques, movement practices and breathing exercises to help you  cope in times of uncertainty and change.