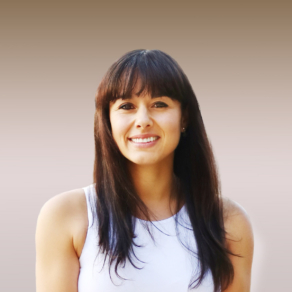 Gemma Vassallo Follow
Gemma loves a dynamic yoga practice and enjoys playing with arm balances and handstands. She also has a deep love of Yin Yoga and meditation.
Previously a gymnast and dancer, at the age of 14 Gemma experienced a serious injury to her back and neck. She was initially introduced to yoga in 2004 as a means to manage and heal from her injuries. The more Gemma practiced yoga, the better she felt and the more she fell in love with the practice.
In 2011 Gemma started teaching in her hometown, Sydney, Australia. She quickly gained popularity and within her first year of teaching she was selected as an Ambassador for the yoga clothing company, Lululemon Athletica. The following year, she studied Nutritional Medicine at Nature Care College, Sydney, which incorporated a 2-year survey of anatomy study.
Gemma has studied more than 500 hours of Vinyasa Yoga with teachers including Baron Baptiste, Chanel Luck, and Simon Park, as well as Nicole Walsh and Tiffany Cruikshank. She also has completed 230 hours of Yin Yoga training with Bernie Clark, Melanie McLaughlin, Tiffany Cruikshank, and Paul Grilley. 
In 2014, Gemma moved to France, settling in Paris and teaching at some of the most prominent yoga studios in Paris and Ile de France, including Naya Studio, Paris Yoga Shala, Caelo Yoga and Modo Yoga. In 2017 she co-created Earth to Fly Yoga Skool in Paris and launched a 200hr Vinyasa Yoga Teacher Training, co-running 8 trainings and certifying over 220 yoga teachers! This partnership ended beautifully at the end of 2020, and Gemma continues to run 50 hour Yin Yoga Teacher Trainings independently, as well as other Level 2 trainings including hands on assists and many more.
Gemma teaches private and group classes and retreats, online and offline, in Paris and worldwide. She is currently an Ambassador for Chin Mudra, France. Additionally, she is a certified Wellness Coach and has extensive experience teaching yoga and creating and implementing wellness programs in both corporate and private settings. In her words:
"I'm living my dream, empowering and inspiring individuals to take control of their health and wellness, one breath at a time."