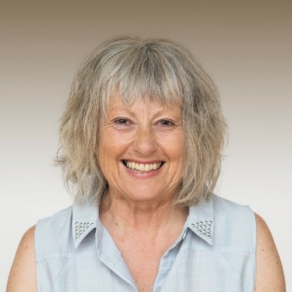 Lyn teaches Hatha yoga, meditation and Pranayama for all ages and abilities. Lyn's teaching style is empathetic, intuitive and encouraging.
Her classes follow the style of yoga taught by TKV Desikachar of adapting yoga practice to suit the needs of the individual. She is passionate about sharing her love of yoga and sees that the tools that yoga offers us can be applied to all stages of life.
Having trained with the British Wheel of Yoga some 25 years ago, Lyn then went on to become a Diploma Course Tutor and ran training courses for the Wheel for over 16 years. In addition to running weekly classes she enjoys teaching 'going deeper' workshops for her students on a regular basis. She teaches mixed-ages and mixed-ability classes in East Sussex, UK where she lives near the foot of the South Downs.
Teaching yoga to mature students in a chair yoga class has enabled Lyn to become creative in adapting yoga practice to this situation. She says "We have a lot of fun together, as well as still moments of inner calm and quiet".
Lyn was originally inspired by the teaching of Alan Babington who ran the Albion Yoga Movement. It was whilst attending summer schools with Alan that she discovered the transformational aspects of Pranayama.
Her British Wheel trainers studied with TKV Desikachar and it is his system of adapting yoga to fit the individual that has become key to Lyn's teaching style. In addition, her own practice has been enhanced by many other styles and traditions and she incorporates the aspects that work for her into her own teaching.
Lyn feels that her spiritual home is India and has travelled widely around the sub-continent. A particular draw is Tiruvannamalai and the holy mountain of Arunachala, which was home to the sage Bhagavan Ramana Maharshi. It was here that she met her 'living Guru' who is from the same spiritual lineage of Advaita Vedanta.
If you would like to enquire about classes in person with Lyn you can contact her by email.
Practice Lyn's classes as part of your EkhartYoga membership.
Not a member yet? Try us out with a two-week free trial