Finding the best yoga mat that's right for you can be as individual a choice as buying a new pair of trainers. Would you like something light and portable? Are you looking for extra cushioning? Do your hands slip easily? Do you need an extra-long mat? Would you like something with guidelines on it to help with alignment? Is buying from a sustainable company important to you? What colour do you prefer…? And so on!
And that's where we come in. We've taken in account all of these questions and tested some of the most popular brands on the market. Here are the results.
Price: $140 / €100 est
Material: Natural rubber, eco-friendly Polyurethane. The top layer is absorbent which is great for maintaining your grip.
Eco-friendliness: The rubber is sustainable and naturally sourced and they also do not use any toxic adhesives.. which is great. Their packaging is fully recyclable too.
Size & style: at 68cm x 185cm / 26,8" x 72.8" this mat is wider and longer than most mats. It has alignment markers etched on the mat which is actually surprisingly very handy! The mat comes in grey and pink.
Best for the serious yogi
We love this mat. The only downsides are that it is very heavy so it's not a mat that you will carry around with you.. and it's not cheap! But if you are serious about your yoga.. this is a great investment.
It has great grip – like Lululemon's "The Mat" without the overpowering smell but some have noted it loses grip after time (top tip: clean with a smidgen of washing up liquid in cold water and let it dry naturally indoors.) This mat is very body friendly as it uses body safe products to make the mat and it's firm yet cushioning. Also you can experiment with the alignment (guide)lines on it to see if your body tends to be a bit off centre.
Price – $54,95 / €59,95
Material – Natural rubber, there's a bit of a rubbery smell but not too strong and not unpleasant.
Eco-friendliness: Jade mats are super friendly to our ecosystem. Their mats are made from natural rubber. They are made in the US and they plant a tree for every mat they sell! Thumbs up from us!
Size & style: The mat is available in two lengths (68/74") and in 5 different colours with a straightforward design.
Most eco-friendly
The Jade Travel Mat is great for people who tend to have sweaty hands and feet as it has great immediate grip. It's very eco-friendly too. However weighing 1.6kg, this mat is not light (because it is natural rubber) and not really thin so we wouldn't use it as a travel mat. But compared to their other mats it's a lot lighter.
What our members say: "Jade Yoga, grip from the first minute! The smell, well you get used to it, was at the beginning strong (rubber), and my sensitive skin feels like the surface is a bit rough. Could turn in to my favourite maybe in time."
Thickness: 5mm/.19" – This mat is thick but comfortable without feeling unstable. This mat is great for those who like an extra bit of padding for their knees while still maintaining a solid connection to the ground.
Stickiness & texture: This mat has a very smooth texture and the grip/anti-slip is fabulous. The mat is a little 'plasticky' so it does feel a little a little like lying on lino 🙂
Price: $68/€78
Material: It's made from polyurethane, rubber and latex. If you are in any way sensitive to latex then we don't recommend this mat. It has a very overpowering smell that's not very pleasant. They say it will go and recommend airing it first. The smell is certainly dying down a little bit, but we have had a few complaints here in the Studio…
Eco-friendliness – Not ranking high in this area. The chemical smell from this mat is not encouraging. Their eco policies are unclear so would love to be enlightened?
Size and style: 71″ x 26″ (180cm x 66cm) and available in a variety of colours. Simple, sleek and cool.
Great for anti-slip:
If you can get over the overpowering smell, and you tend to sweat a lot this is a great mat! Not for travel, but their travel mat is the top layer of this one, so without having tried it, that could be good too!
What our members say: "No slip whatsoever, reversible and nice colours. Would never go back to another mat now."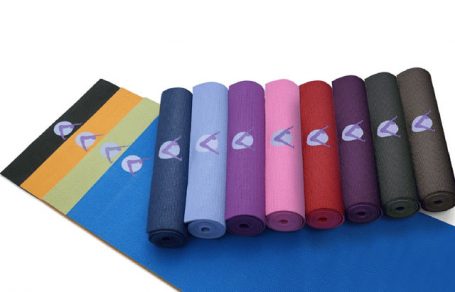 Thickness: – ¼ inch / 6.35 mm. This mat is lusciously thick without feeling unstable.
Stickiness & texture – We have a mixed jury out on this one. For those of us who do not sweat the grip seemed fine. But if you do sweat, this mat is not for a dynamic practice as you slip easily. They also have an anti-slip towel to place over this mat.. but we have not tried it. It is our favourite for Yin yoga as it supportive yet soft. 'Yummy' is the word!
Price: €54.95
Material: made from specially designed memory foam. The mat is free from Phthalates, Latex and Silicone so it's quite hypoallergenic.
Eco-friendliness: The classic mat is biodegradable and made from eco-safe PER.
Size & style: at 72″ x 24″ this is a good sized mat – making it also suitable for the taller and wider. It available in a wide variety of colours too.
Best for Yin Yoga
This mat is our favourite for slower and softer practices like Yin Yoga. It's so comfortable and supportive. However, if you tend to have sweaty hands and feet or you have a very active practice this mat is probably not suitable for you. If you like to have more than one mat for your home practice this is definitely a good addition.
Thickness: 6mm/ ¼". This mat has a nice thickness and it feels really stable.
Stickiness & texture: The mat has no slipping and the texture is little rough – a fabric-like surface.
Price: $100 / €85
Material: PVC but latex free!
Eco-friendliness: Even though these mats are made with PVC, Manduka say that it is made in a process where no toxic emissions are released.
Size & style: available in two different sizes (180cm/210cm). Nice simple design. No fuss.. just a good mat.
Members' favourite!
You can see why this is their best seller and such a popular mat. No slip, stable, no overpowering smell and comfortable. The only downside with this one is that it is very heavy. Also, we have used these mats a lot here at EkhartYoga and Esther has noticed that with extended use they tend to unravel at the edges.
What our members say: "I love my Manduka Pro. Long, lean, stays clean. Grips, no trips & the aquamarine colour I chose lights up my soul."
Thickness: 3mm or ⅛ inch. This mat is solid and thin. It does not offer extra cushioning, so for many of us, you'll need something else under your knees in a low lunge for example.
Stickiness & texture: Great grip from the get-go – almost too good! It's important not to let this mat do all the work for you 🙂 It has a roughish texture which is a little abrasive.
Price: $48.00 / €55.00
Material: Made from natural rubber and latex and it has an antimicrobial additive. There is a strong smell of rubber but it's not too unpleasant.
Eco-Friendliness: Lululemon's standpoint on eco-friendliness is unclear but the mat is made out of natural rubber.
Size & style: 26″ x 71″ (66cm x 180cm)
Best for overall performance
Overall we like this mat. It does exactly what it says it does. This mat is a great general mat. It says it's good for Hatha, Yin and Restorative Yoga but we think that for Restorative, some might prefer a thicker mat.
What our members say: "I don't slip around AT ALL – The only trouble is, because of the texture it's tough to keep clean (it attracts dust and your hands and feet leave 'swoosh' marks)"
Stickiness and texture: This mat performs like a mat and towel in one. Natural rubber base ensures your mat will never slip and the microfiber surface feels luxuriously soft to touch and grips great with pressure. Traction also increases with sweat and moisture.
Price: $98 / €86
Material: 100% natural rubber base with a microfiber top layer
Eco-friendliness: 100% sustainable, recyclable and renewable rubber base. Absolutely NO PVC.
Size & style: Indie artist designed yoga mats with hundreds of designs. A different artist creates each design and every purchase directly supports the artist who created the design. Available in 2 sizes: 24"x72" (61cm x 183cm) and 28" x 84" (71cm x 213cm)
Our vote: We love the beautiful, unique designs and the ethos behind the company. We found the soft mat surface a little slippery for Vinyasa yoga but great for Yin Yoga, Hot yoga, Ashtanga Yoga and meditation.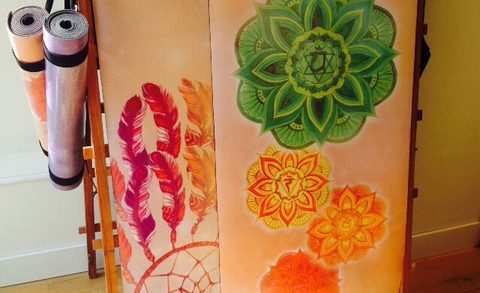 Thickness: 3.5mm and firm – great if you prefer something more stable.
Stickiness & texture: The mat has a microfiber top layer which feels like suede. This mat and the Yoga Design Lab mat work best when wet, so they're especially good if you have sweaty hands or go to hot yoga or Bikram Yoga. If you have dry hands spray a little water on the mat first to make it grippy.
Price: €84.00
Material: 100% natural rubber and microfibre top layer
Eco-Friendliness: 100% natural rubber, organic, biodegradable, Free from latex, silicone, toxic glue. The inks for the print are also water-based.
Size & style: weight 1.8kilo, 172 cm x 61 cm (67 inch x 24 inch) 3.5mm thick. Mix of hand-drawn designs
Our vote: We love how the designs are hand drawn by Debbie from OHMat herself. The mats are eco-friendly – plus they're washing machine proof (without soap). The top layer feels like suede so you have the stability of a rubber mat without it feeling cold.
Thickness: 5mm – 6mm thick – good for travelling as you can fold it up
Stickiness & texture: This reversible cotton mat looks beautiful and feels great but isn't sticky. The natural weave is initially firm but the cotton will soften over time. Indian yogis have commented that the texture offers a natural acupressure effect on the hands and feet.
Price: $95
Material: 100% cotton, hand woven
Eco-Friendliness: Touted as the "world's most eco-friendly yoga mat". Mats are made from 100% natural cotton, woven by hand in Northern India. The cotton from local farmers is dyed using a natural process. The residual dye water is treated and used to irrigate adjacent vegetable fields and fruit orchards. It takes 10 days to make each mat and no electrical power is used.
Size & style: weight: 1.8kg, size: 188 cm x 61 cm (74 inches x 24 inches).
Best for the natural look!
Our vote: This lovely mat feels and smells very natural and its eco-friendly credentials are second to none. The texture may be a bit rough for bare skin/knees but we didn't find this a problem. This mat becomes more grippy with wet hands, so if you don't have sweaty hands you have to work harder during some poses not to slip, which challenges your stability and core. For this reason, it might not be ideal for beginners. This is Esther Ekhart's personal favourite mat to travel with – "it's portable, lovely to look at and nice to have permanently unrolled in my hotel room".
Related:
Originally posted 2015. Updated 28th June 2017.