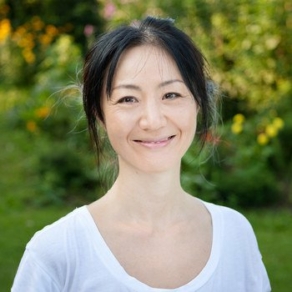 Aki Omori is a Somatic movement therapist and educator, working with developmental movement patterns, experiential anatomy and Authentic Movement.
Aki practised for many years with Clive Sheridan, studies with Donna Farhi and has been one of her senior assistants, and also studied with Erich Schiffmann. Other important teachers and practice that influenced her over a long period of time are Glenn Ceresolli (senior Iyengar teacher), Scaravelli yoga, Angela Farmer and Richard Freeman, among many others.
Drawing from this varied and rich field of experience, Aki teaches a Vinyasa-based style of yoga that is gentle and mindful yet deep.
Aki teaches regular classes at Triyoga in London, as well as providing private yoga tuition and working at a private clinic as a movement therapist. Aki's classes often start slowly, establishing the chosen theme, preparing the body and mind for more dynamic sequences toward the end, integrating what's been learned earlier. Basics are never overlooked, even with experienced students. Everyone is encouraged to work on the level of refinement suitable to his or her capacity, as that can show how subtle changes support larger external movements. Advanced poses follow naturally when practitioners are ready.
"I work somatically," Aki explains, "which means we work with the body as it is experienced from within, rather than the body as it is looked at from the outside. In this way, the body and mind are not separated but are experienced as a whole."
Teaching from movement principles rather than simply achieving forms, Aki guides her students in a way that encourages them to find their own unique path that is honest and truthful. She teaches a Somatic Movement module at several yoga teachers training courses and privately runs Advanced Enquiry modules on restorative yoga and therapeutic presence for teachers, teacher trainees, and holistic therapists; and she also teaches annual yoga retreats in various countries.
Aki's classes are known for their lightness, and are fun yet profound. She is also known for her work in restorative yoga and is an experienced Pranayama practitioner. Aki is devoted to Advaita, or non-dual, teaching.