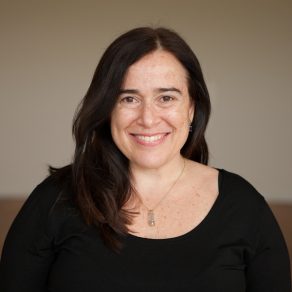 Anat Geiger threaded science, spirituality, philosophy teachings and chakra theory through her teaching, combining Yang elements of strength and rhythm with Yin elements of kindness and silence.
Our beloved Anat has now passed on. Her spirit, deep wisdom, and joy for life continue to inspire us. We will be forever grateful to her for being part of the EkhartYoga community for almost 10 years. We send our love and strength to her family, friends and all of her students. 18 May 2022.
Anat took her first yoga class in 1996 and immediately found something that, without knowing it, she had been always looking for. Having spent 25 years on stage in her career in performance arts, Anat studied intensively with Teresa Caldas and Dona Holleman and followed both their teacher trainer programs. They taught her priceless insights into alignment, precision, therapeutics, impeccability, clarity and intent.
In 2009 Anat met Paul and Suzee Grilley and began studying Yin Yoga, Chakra Theory and Meditation and Philosophy. Through Paul and Suzee, Anat found new and unexpected possibilities. She discovered that our bodies are fundamentally different and alignment will vary from person to person. She learned that science and spirituality enrich and benefit each other and that we need strength, acceptance, fierceness but also kindness, movement and stillness; Yang and Yin. Anat continued to study with Paul and Suzee until she passed away and was one of their main assistants.
Anat's teaching combined the strong Yang elements of strength and rhythm with the Yin elements of kindness and silence into the classes, always focusing on practising with awareness and joy.
"It's the observation of what happens inside during the practice that never ceases to fascinate me. And it's the unrelenting commitment to silence the mind and soften the heart that inspires me to come back to the mat every day, both as a teacher and as a yoga practitioner".
Anat Geiger's courses on the EkhartYoga Academy
Alongside her regular classes and programs on EkhartYoga, Anat filmed specialist courses on the Ekhart Academy:
Introduction to Patanjali's Yoga Sutras – Explore the most pivotal Sutras from the first two chapters and contemplate the purpose of practicing yoga beyond Asana, as a road towards self-realization.
Fundamentals of Yoga Philosophy – A dive into the philosophical concepts of yoga to help you uncover a deeper meaning to your practice.
Functional anatomy – Spine, Pelvis and Shoulders – Learn what functional yoga is and how this approach can liberate you and your students from focusing on an aesthetic goal rather than an individual experience.