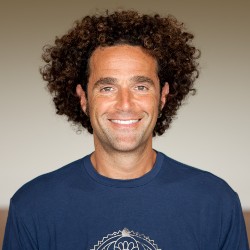 David Lurey interweaves spiritual teaching themes into his teaching, along with intelligent sequencing, a heartfelt passion for music, and a dose of humour.
David Lurey, E-RYT 500, was introduced to yoga in 1996 and since then has developed into a talented, focused and caring teacher. Studying different aspects of yoga with various experienced teachers all over the world has deeply prepared David to help students embrace all aspects of their practice.
After training in Rocket Yoga, Ashtanga Vinyasa Yoga, Iyengar and alignment based practices, as well as Vinyasa Flow and Yin Yoga, David's style is a bit like his bloodline: "a little bit of everything".
—
Practice David's classes as part of your EkhartYoga membership.
Not a member yet? Try us out with a two-week free trial.
—
Radiating enthusiasm and love, David Lurey teaches Vinyasa Yoga for a connection to the self, AcroYoga for connecting to other humans and Green Yoga as a way to connect more deeply with the planet and cosmos and Bhakti Yoga for divine connections.
With the use of rhythmic breath, applied philosophy, music and intelligent sequencing – not to mention a dose of his inimitable humour – David's classes create the opportunity for students to cultivate physical presence, inner peace and spiritual awareness, while at the same time building strength and increasing flexibility.
You can also train with David on the EkhartYoga Academy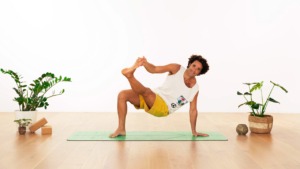 Check out David's online Academy courses:
Expanding Horizons, which add teaches you how to add functional movement practices into your yoga classes, while integrating the deep wisdom of yogic philosophy, and;
Conscious Communication for Yoga Teachers, which gives you an insight into your communication, the different elements that shape it, and how you can adjust it by exploring your words, thoughts and intentions.