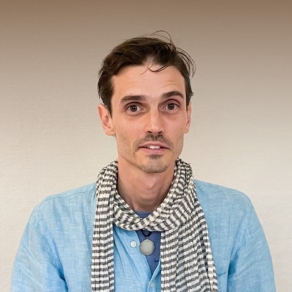 Lama Karma (Justin Wall) is a mindfulness teacher trained in the Tibetan Buddhist tradition. He has been teaching since 2007, both as a facilitator of mindfulness and in more traditional contexts. 
Lama Karma graduated with honours from Columbia University with degrees in English Literature and Religious Studies. He completed two three-year retreats in the Tibetan Buddhist tradition at Kagyu Thubten Chöling Monastery under Lama Norlha Rinpoche and one six-month retreat at Shangpa Karma Ling under Lama Denys Rinpoche, including more than a month of dark retreat.
His other teachers include Tai Situ Rinpoche, Namkhai Norbu Rinpoche, Mingyur Rinpoche, and Dzongsar Khyentse Rinpoche.
Lama Karma completed a year-long certification course in Mindfulness Facilitation through the Mindful Awareness Research Center at UCLA, and is also an accredited facilitator of the 8-week Open Mindfulness Training, as well as the Tibetan Inner Yoga Training and the Eight Movements of Yantra Yoga.
He is the spiritual director of the Milarepa Retreat Center in the Smoky Mountains of Tennessee and founded the eco-dharma Earth Vase Pilgrimage project in the Smoky Mountain and Blue Ridge Mountain region.  He is also a founding board member of the Lotus Light Contemplative Community Center in Knoxville, Tennessee.
You can find more information about Lama Karma on his website.