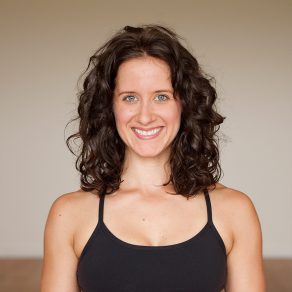 MacKenzie Miller Follow
MacKenzie Miller's classes will challenge, inspire and empower you. She utilises her experience as a personal trainer, offering yoga as cross training for runners, swimmers, cyclists and much more.
After finding yoga while attending college in Los Angeles, MacKenzie completed an anatomy intensive Power Vinyasa training with Tiffany Cruikshank in 2011 and continued to study with Tiffany for her 500-hour certification. MacKenzie teaches classes in her hometown of Red Deer, Canada, and her offerings of workshops and retreats allow her to bring expertise of asana and myofascial release work on the road.
MacKenzie is also a certified personal trainer and her teaching combines a thorough understanding of alignment and anatomy with the joy of balance and movement. She engages deeply with her students and her classes are thoughtfully sequenced, creating a safe space to have fun and explore, work hard yet find softness.
She approaches her teaching with a joyful celebration of balance and movement, sharing physical, mental and emotional empowerment with her students. In-depth knowledge of alignment couples with her contagious and playful demeanour, and MacKenzie encourages students to redefine what is possible in both body and mind.
Practice MacKenzie's​​​​ classes as part of your EkhartYoga membership.
Not a member yet? Try us out with a two-week free trial