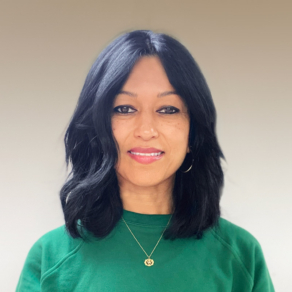 Nahid de Belgeonne Follow
Nahid de Belgeonne is a Somatic Movement coach and yoga teacher with a passion for sharing the healing benefits of movement.
The transformative powers of movement first became clear to Nahid in her teens, when vigorous physical exercise helped her to shift through emotional states.
Nahid has been a pivotal part of the London fitness landscape for 15 years, first operating a successful yoga and wellbeing brand in Central London. For the past 2 years she's focused  on private clients, emerging as a thought leader on nervous system regulation. She has a diverse background in the fashion, technology and publishing sectors. The common thread in her life is how to stay agile in an ever-changing environment.
Nahid encourages you to move by sensing what you feel rather than being overly concerned with how it looks. She is informed by the latest thinking in science and teaches breath, Somatic movement, Feldenkrais, Somatic yoga flow, Restorative yoga, Meditation and Yoga Nidra with the aim of bringing the nervous system back to balance.
Nahid believes a good teacher is one who never stops learning and evolving. She is informed by 15 years of studying various movement modalities including Feldenkrais, Somatic Movement, Restorative yoga, Yin yoga Yoga Nidra, anatomy & movement, Pilates, Qi Gong and conditioning.
She relishes teaching a diverse range of people, from beginners to athletes, from stressed- out high flyers to those who suffer from chronic anxiety and pain or are recovering from injury or illness. Her teaching is informative, inclusive and delivered with an infectious good mood.
Nahid is on the teaching faculty of Embodied Yoga and has served as the yoga expert for Women's Health Magazine UK and Aveda UK. Her corporate clients include Oskia Skincare, L'Oreal, Estee Lauder, ASOS and the NHS.
She teaches weekly classes and private sessions online as The Human Method, which she launched in 2020. The Human Method has been featured in The Times, Tatler, Harpers Bazaar and Elle Magazine.