The facts:
Name: David Lurey
Date of birth: January 31, 1973 (at 02.56 PM)
Place of birth: Asheville North Carolina, US
Siblings: One older sister (two years older)
Marital status: Happily married
Current residence: Palma de Mallorca, Spain
Could you tell us something about your upbringing, your life story?
I was conceived in Interlocken (Interlaken) in Switzerland in 1972, during a radical snow blizzard that lasted three days, in Hotel InterContinental where my parents stayed in the late Spring. Nine months later I was born in Asheville, America.
My mother was born in Cairo, Egypt, but exiled to France in '64 under Nasser because of her Jewish background. From there she moved to the US, where she met my father in North Carolina. My father, whose family came from East Europe but had been living in America for some generations, was also Jewish.
In rural North Carolina, part of the bible belt, I remember feeling 'different'.
This became more apparent, especially during my teenage years and I remember it taught me to stand up for myself, to hold my ground. When somebody made a remark about how I looked, I would ask him where he came from because, in the end, all Americans have their roots elsewhere…I like to bring these things back to facts; give factual information that proves we are interconnected and that nobody knows where we are going.
My teenage years were pretty wild. I went to my first concert when I was sixteen, The Grateful Dead. That opened me up to another world; the psychedelic music and experiences, alternating substances…that went on for years. Luckily I enjoyed learning, so I did okay in school, and my parents were there to keep an eye on me when I needed to slow down. Communication with them was always good, and that helped a lot.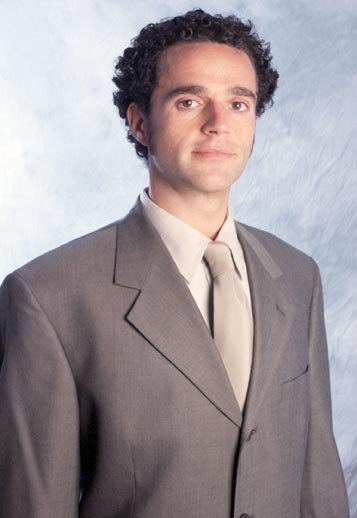 After high school I went to university in Denver, to study Hotel and Restaurant management. I had a great time there besides studying; skiing, mountain biking, going to concerts. After finishing I went to work in a hotel in San Francisco. I'd been there once before and loved the place. I worked in a hotel as a bar manager for more than three years. I enjoyed it, but also experienced the rigid structure of "how things were done", not leaving much room for change or new ways.
My introduction to yoga
When I was 21, I joined my first yoga class, Ashtanga style, led by a teacher called Larry Schultz. I really enjoyed it and recognized this was something important… So I started to attend more classes and decided to quit my job in the hotel. I found a nine to five job in a software company, developing software for hotels and restaurants.
In the meantime I did yoga! My teacher was very asana based, teaching a power yoga called Rocket Yoga. But in time I also came to meet other teachers, learning about the Sutras, yoga philosophy and other styles of yoga. I also met Jai Uttal, a Kirtan singer, who introduced me to the world of mantra singing. Again, another world to discover… in 2000, Larry asked me to do a teacher training and after that, to come and teach in his yoga studio. And so I did. I left the software company, and started to teach, and soon I had full classes.
Then one day I got a message on my answering machine that I was fired… Boom. Just like that! That really hurt, it felt like I was thrown out of the nest. But it forced me to become independent, stand on my own feet, which turned out to be the best thing that could happen to me… Two years later I walked back into his studio and me and my old teacher just hugged, all was clear between us.
By the end of 2001 Clayton Horton invited me to join him in his Greenpath Yoga Studio in San Francisco. We got along well. Two years later I was asked to teach at a yoga conference in Brazil. That was probably the start of me becoming a travelling teacher… After Brazil I was invited to Rio, Sao Paulo and I really enjoyed it!
In 2006, the Greenpath Studio had to close. Having more time now, I went to Europe, where some of my former students organized a yoga retreat and asked me to come and teach. I also went to Amsterdam, Paris, Frankfurt…It started with only small groups of 10 to 15 people but in time more and more people attended.
I find teaching a humbling experience, it really opens up my mind. It's interesting to find ways to simplify my teachings, to bring across the essence of what I have to say to people who don't speak the same language.
So…I've been teaching since, traveling around. I find it a humbling experience, it really opens up your mind. And it is interesting to find ways to simplify my teachings, to bring across the essence of what I have to say to people who don't speak the same language.
In 2007 I met Mirjam, my wife, in Mallorca. She was born in Switzerland and is also a yoga teacher (and osteopath and massage therapist). We immediately liked each other, but I was this hippy yoga traveller and she was a single mother with two children….! So it took us a while. It was quite rocky in the beginning, but in the end, love just won. Over the years we developed trust and deep commitment towards each other.
Looking back, what seems to be an important theme in your life?
Reinventing myself. This probably started way back with my parents; my mother was exiled, so had to start over in a new country, leaving behind all that she knew. For myself, I've lived in different places where I had to reinvent myself, finding work within very different cultures. And from being a traveller with no strings attached, I am dedicated now to my wife, to a married life with responsibilities.
What besides yoga and mantra singing has your interest?
I love pop and folk music. I started to play bongos and congas at the age of fourteen and bought my first guitar when I was eighteen. My songbook is still growing, with songs from The Beatles, Cat Stevens, Neil Young…
And I love beaches, the vastness and movement of the ocean. I have a fascination and also a bit of fear of the unknown, those deep waters…
What else? Cooking! My mother is a professional chef, so she may have passed that on too… When I come home after travelling, I always look forward to cooking, especially with ingredients from Mallorca.
What inspires you at the moment?
Ah… different sources inspire me at the moment.
Mirjam's two children, who are now 19 and 21 [at the time of writing], are an inspiration to me. Ready to go into the world, with a desire to make a positive change, to get out there and do something. I love that energy.
Mirjam is also an inspiration by not allowing me to get away with everything… She really keeps me grounded, right there in the relationship, teaching me what real love means, also in its dark, deep places.
Another thing is the fear that is projected into the world by the media. The majority of people hear only this information. It inspires me to bring another, positive message through the back door. About yoga, healthy foods, how we can relate in better ways to our families, in our relationships. How we can take care of our bodies and minds. That really inspires me to keep on doing what I do.
David Lurey on EkhartYoga
Visit David's teacher page to see his latest classes. Click Follow to get notified about his new releases.
You can also train online with David on the EkhartYoga Academy in his 2 hour course for teachers:
Explore your voice and physical body
Learn about the effects of your teaching language
Connect your intention and communication